This post contains affiliate links, which means I may receive a small commission, at no cost to you, if you make a purchase through a link.
Increasing your affiliate commissions and growing your email list on autopilot with an artificial intelligence chatbot sounds awesome, but is it for real? Can the Conversiobot chatbot really help you do this or is it just a scam?
In this Conversiobot review, I'm going to tell you what you need to know about this product and whether I think it's worth you shelling out your hard-earned money.
In my favorite online community, they teach you exactly how to make money online as an affiliate marketer, even if you're starting from scratch, have no experience and don't have thousands of dollars to invest.
There are many different strategies and techniques involved in becoming a successful affiliate marketer, but in this Conversiobot review, I'm going to go over an AI chatbot that promises to help increase your affiliate commissions and grow your email list on autopilot.
Conversiobot Review Summary
Product Name: Conversiobot
Product Type: Artificial Intelligence Chatbot
Price: $46 for Conversiobot Lite, $47 for Conversiobot Pro
Best For: Bloggers and small business owners who want to convert their visitors into sales and subscribers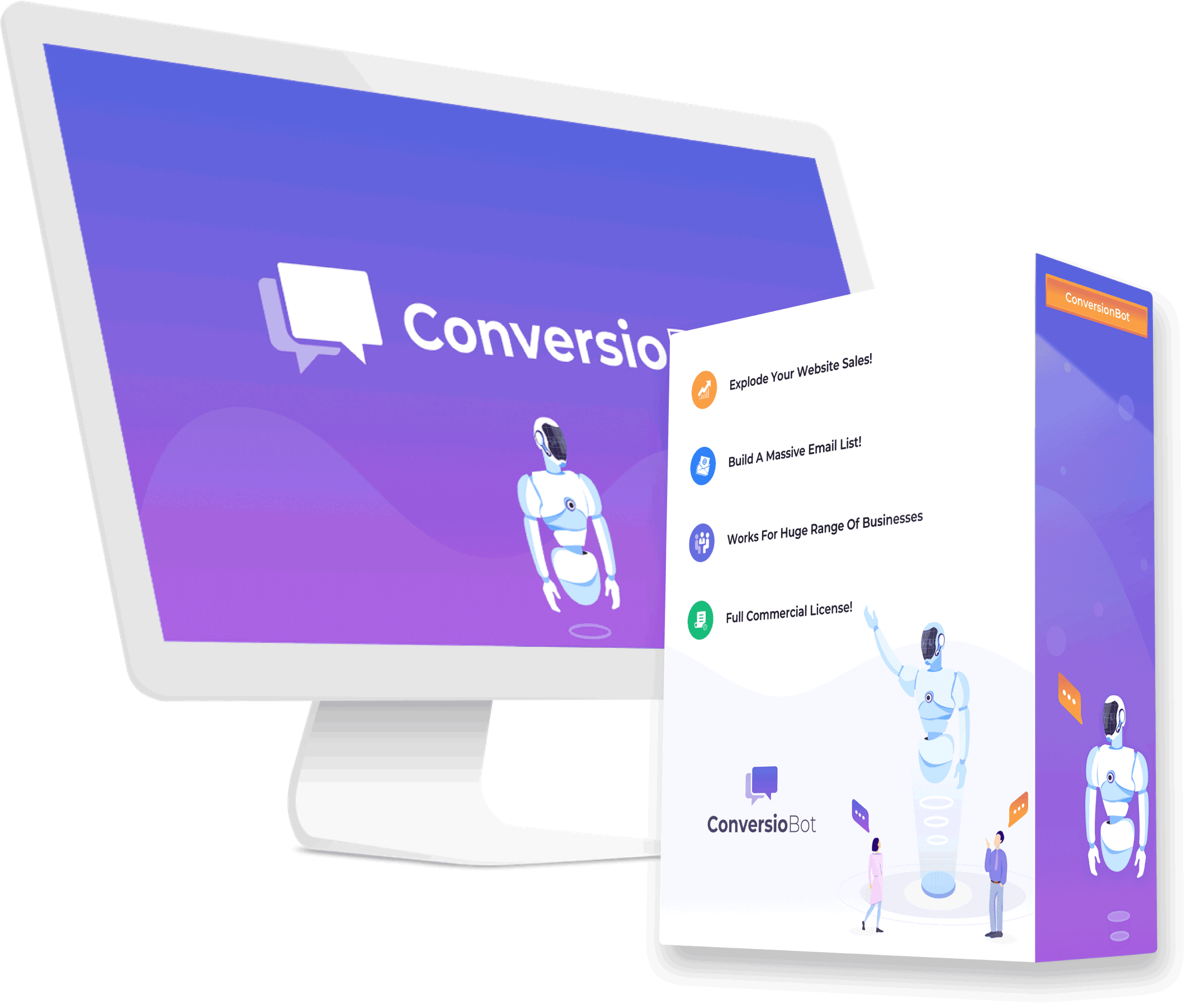 Summary: Conversiobot is an artificial intelligence chatbot designed to help website owners convert their leads into sales and subscribers. The Conversiobot chatbot allows you to fully customize the "Done-For-You" chatbots that come included with the product, or you can build your own chatbot with the simple-to-use "drag and drop" builder. Conversiobot can be installed on a blog or website with a single line of code. If you're looking for a way to increase your subscriber list and convert more visitors into customers, then Conversiobot is a worthwhile tool.
Rating: 90/100
Recommended: Yes
What is Conversiobot?
Conversiobot is an artificial intelligence (AI) chatbot designed to help website owners convert their visitors in leads, customers and subscribers on autopilot. 
Conversiobot enables you to create chatbots in minutes, using either the fully customizable "done-for-you" chatbots that are included with the product, or by creating your own using the simple "drag and drop" interface. 
You can then easily install your chatbot onto your website by uploading the plugin into your WordPress dashboard and then installing a single line of code (step-by-step instructions are included.)
Who is Conversiobot For?
Conversiobot was created for anyone who has a website and is wanting to convert their visitors into leads, subscribers and sales. 
The product can be used by:
Bloggers
Affiliate marketers
Freelancers
eCommerce shop owners
Small business owners
Local business owners
If you have a website and you are trying to grow your subscriber list or get more sales, then Conversiobot is for you.
What I Like About Conversiobot
Conversiobot is very easy to use. Prior to purchasing Conversiobot I didn't have any any experience with using chatbots or artificial intelligence. I'll admit it – I was a bit apprehensive and wondered if it was truly going to be as easy as it sounded.
I was pleasantly surprised at how simple Conversiobot was to customize and install onto my website. 
Another benefit of Conversiobot is that it gives you the ability to lead your customers through a series of questions to better serve them. For example, if you have a weight loss site, you may promote two products, one related to weight training and one related to cardio.
You can set questions in Conversiobot to ask your reader what they're more interested in, and then provide a link that corresponds with their answer.
What I Don't Like About Conversiobot
What I don't like about Conversiobot is the amount of "upsells" after you buy the initial product. 
This is very common with tools like this, and I understand that it's a common tactic to increase sales, but numerous upsells is something I find irritating. 
The Conversiobot tool itself is $37 for the Pro version and if you're just planning to use it as a chatbot on your website/s that's all you need. 
While the upsells might sound enticing, unless you're planning to start a digital agency where you create and install chatbots for others, then you don't need anything more than the $37 product. 
How Much Does Conversiobot Cost?
Conversiobot has two pricing options:
This isn't a typo. Conversiobot Pro is only $1 more than Conversiobot Lite. 
For an extra $1, I recommend getting Conversiobot Pro as you get the following, which is not included in the Lite version:
Unlimited chatbots
Multi-site license (meaning you can install chatbots on multiple websites)
10 "Done-For-You" chatbot templates
Full commercial license (meaning you can sell your chatbots for 100% profit)
Is Conversiobot a Scam?
Conversiobot is not a scam. It's a legitimate chatbot tool that is simple to use and can be installed on virtually any website. 
With that being said, merely installing Conversiobot on your website isn't going to magically increase your income by $10,000/month (there's no tool that can do that.)
You still need to get traffic to your website and have products that people are interested in. 
However, if you can do both of those things, then Conversiobot can definitely increase your conversions.
My Results Using Conversiobot
I installed Conversiobot on one of my niche sites (in the healthy living niche.) You can choose to use Conversiobot to grow your email list, grow your social media following, or increase affiliate sales, to name a few ideas.
I chose to test out Conversiobot to try and increase affiliate sales. Almost immediately after installing Conversiobot, I got my first affiliate sale.
This is for a product that I was only advertising on one blog post and got around 3-4 conversions a month. Since installing Conversiobot, I've almost doubled my conversions for that particular product
How I Make a Living Online
I personally created a 4-figure monthly passive income stream as a stay-at-home mom with no experience, no audience and without having thousands of dollars to invest upfront.

If you'd like to learn how I created a passive income stream like this and how you can do the same, then click on the button below. I've created a special video that explains everything to you.