This post contains affiliate links, which means I may receive a small commission, at no cost to you, if you make a purchase through a link.
These freelance proofreading jobs are a great way to make a side income or even a full time job! Becoming an online proofreader is easy to do, and can enable you to start a business right from home. This is a profession that you can do from anywhere in the world – perfect for digital nomads.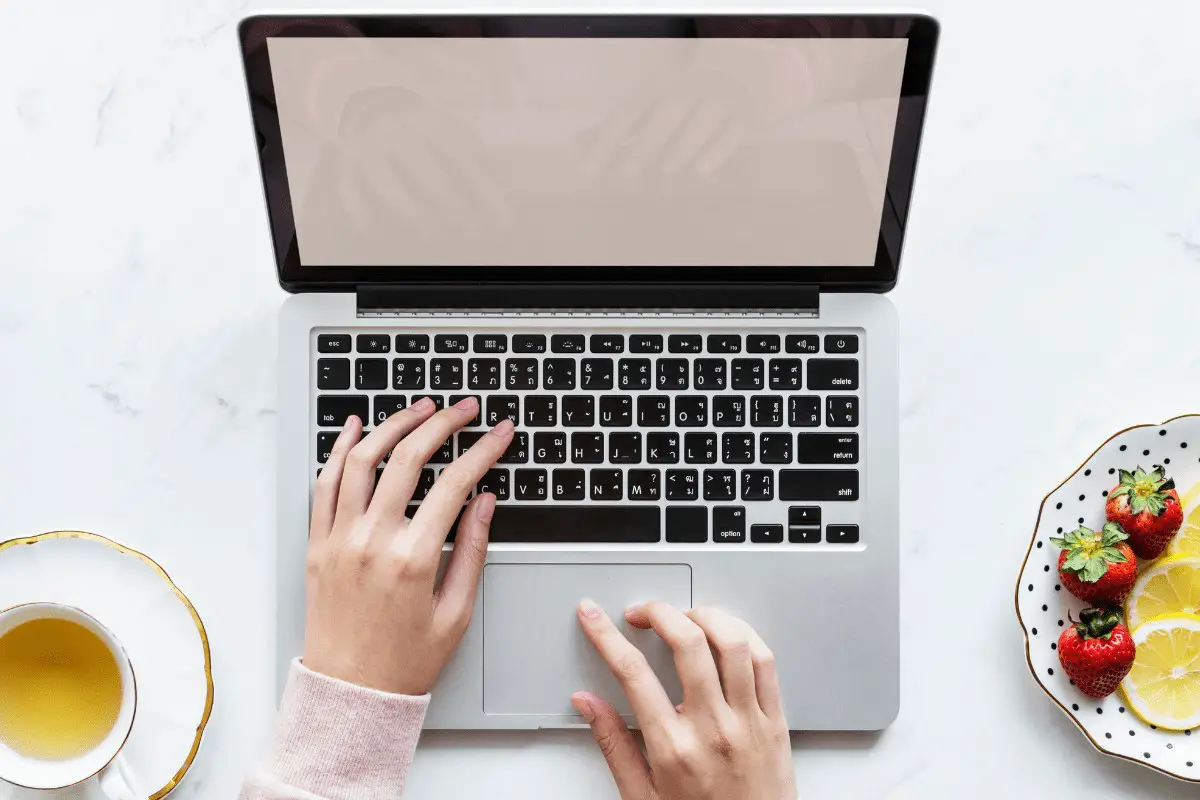 The proofreading field is experiencing rapid growth right now, meaning there are plenty of opportunities for skilled proofreaders to find work or even start their own online business.
You may also be interested in these other businesses you can work on from home.
If proofreading sounds like something you're interested in, keep reading because in this article, I'm going to go over the best online proofreading jobs and how you can get started in this potentially lucrative industry.
But before we dive into some of the best freelance proofreading jobs, let's take a look at the whole profession, what it entails and how you can get started in the industry.
What is Proofreading?
As a proofreader, you are responsible for reviewing the final draft of a written project – this could be anything from a blog post or eBook to a product listing or online course.
When the draft gets handed to you, you'll go through it with a fine-tooth comb and fix things like capitalization, punctuation and spelling errors, look out for formatting errors and watch for consistency.
You're the final set of eyes on a written project before it's handed over as a final, complete document ready for publication.
How Much Money Do Proofreaders Make?
Salaries for proofreaders vary based on a number of factors including education, experience level, certifications, additional skills and the types of projects a proofreaders works on.
For example, proofreading blog posts will generally pay less than proofreading technical documents. Likewise, projects with a tight deadline can command a higher fee than projects that have a standard turnover time.
According to Salary.com, the average salary for a US based proofreader is $51,041.

Additionally, Caitlin Pyle, experienced proofreader and the founder of Proofread Anywhere states that "for a non-fiction novel that's anywhere from 15,000 – 35,000 words, a proofreader can earn between $100-$500 for that project."
Qualifications Required to be a Proofreader
Generally speaking, there are no formal qualifications needed to be a proofreader. There is no official proofreading certification in the United States.
Of course, the requirements of individual employers can vary. Some employers may require proofreaders to hold a Bachelors degree while others prefer a proofreader with proven experience.
However, if you wish to be a successful proofreader, it is recommended that you enroll in a professional training program.
Do You Need to Speak Fluent English to Be a Proofreader?
A common question people have about proofreading is whether they need to speak fluent English to be a successful proofreader.
The majority of online proofreading jobs do require candidates to speak fluent English and generally be a native English speaker. Additionally, it's usually preferred that proofreaders speak and write in American English (as opposed to other dialects like Australian English.)
However, opportunities do exist for speakers of other languages, although they may be more difficult to find.
How to Learn Proofreading
Proofread Anywhere is one of the most respected online proofreading courses. The creator of the course, Caitlin Pyle, is a veteran proofreader whose primary income source for 3 years was proofreading.
After having so much success as a proofreader and loving the income and lifestyle freedom that being a proofreader afforded her, Caitlin decided to transition into teaching others how to become successful proofreaders.
Caitlin has created a FREE workshop where you can learn more about the skills you need to start your proofreading side hustle.
Freelance Proofreading Jobs
Working Nomads
Working Nomads is a popular job board for people who are looking for remote work. The companies goal is to "connect professionals who want to work remotely with innovative companies offering independent positions."
You can search for online proofreading jobs in the "writing" category of the site. I just did a quick search over on the Working Nomads site and found 3 proofreading jobs on the first page of results.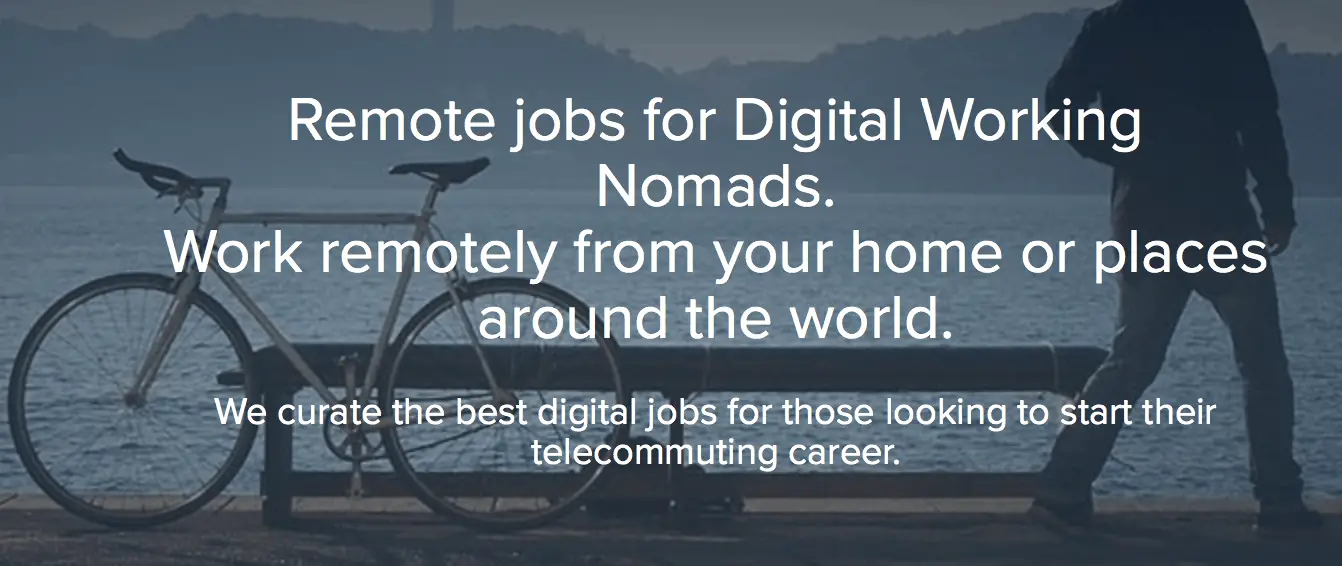 Jobspresso
Jobspresso is one of the premier online job boards and has been featured on sites like Forbes and Inc.com. The jobs listed on Jobspresso are hand-picked, manually reviewed and expertly curated so you can rest assured that there are no scammy listings.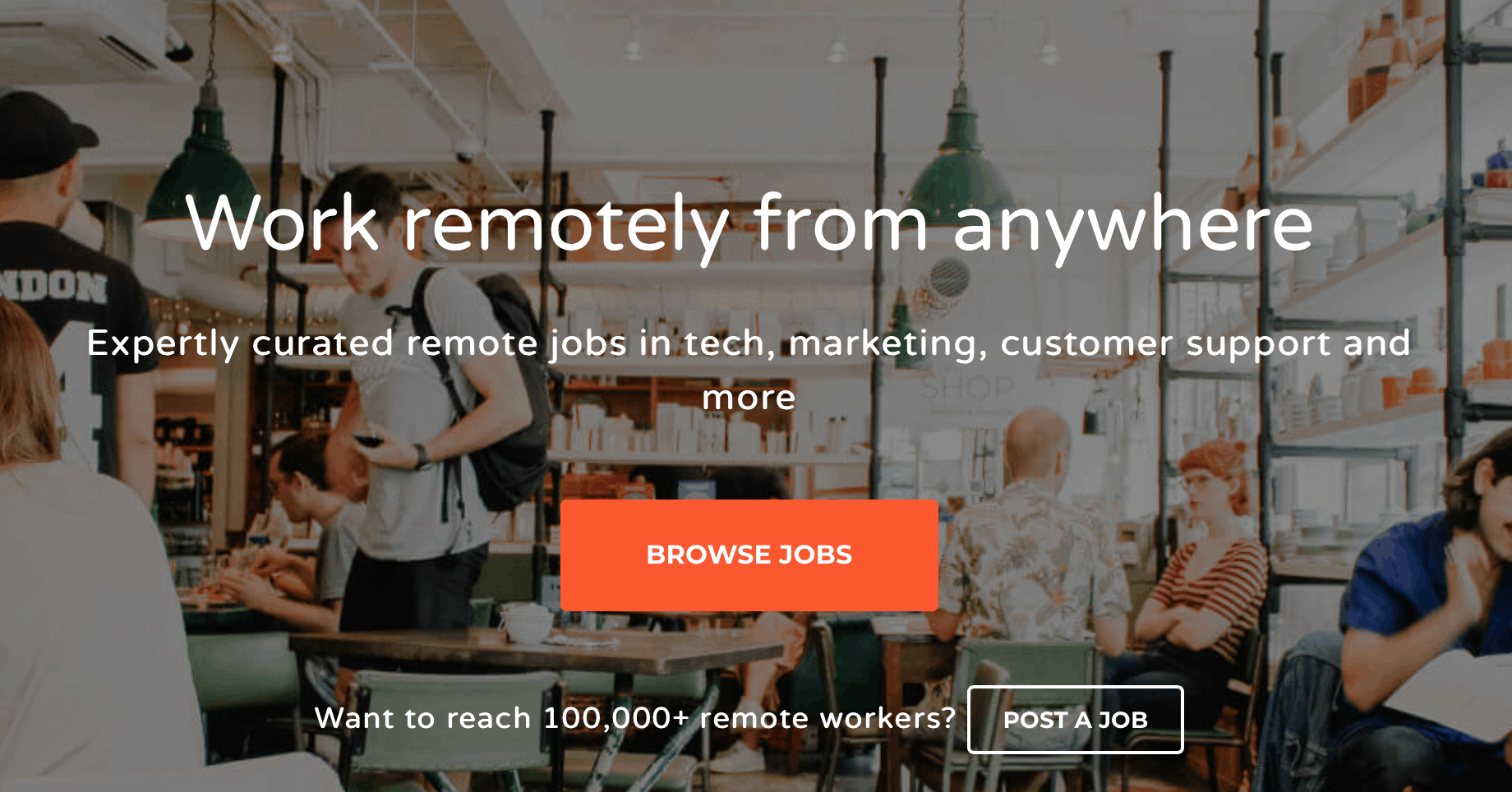 Scribbr
If you're interested in proofreading academic papers, including PHD thesis, dissertations and essay papers then apply to become a proofreader with Scribbr. The Scribbr application process is stringent to ensure only the best proofreaders are hired. Additionally, Scribbr also hires proofreaders who are fluent in languages other than English.
Remote.Co
Remote.co is a popular remote jobs board that is regularly updated with remote job opportunities, including freelance proofreading jobs for beginners. Head over to Remote.co and check out the "Online Editing" and "Writing" section for proofreading jobs.

Scribendi
Scribendi was founded in 1997 and is the industry leader in quality editing and proofreading services. If you're hired as a freelance proofreader with Scribendi, you'll enjoy the ability to work from home, set your own schedule, and know exactly how much a job is going to pay before you accept (no hidden surprises!)  Scribendi has a rigorous hiring process to ensure that only the best proofreaders join the team – learn more here.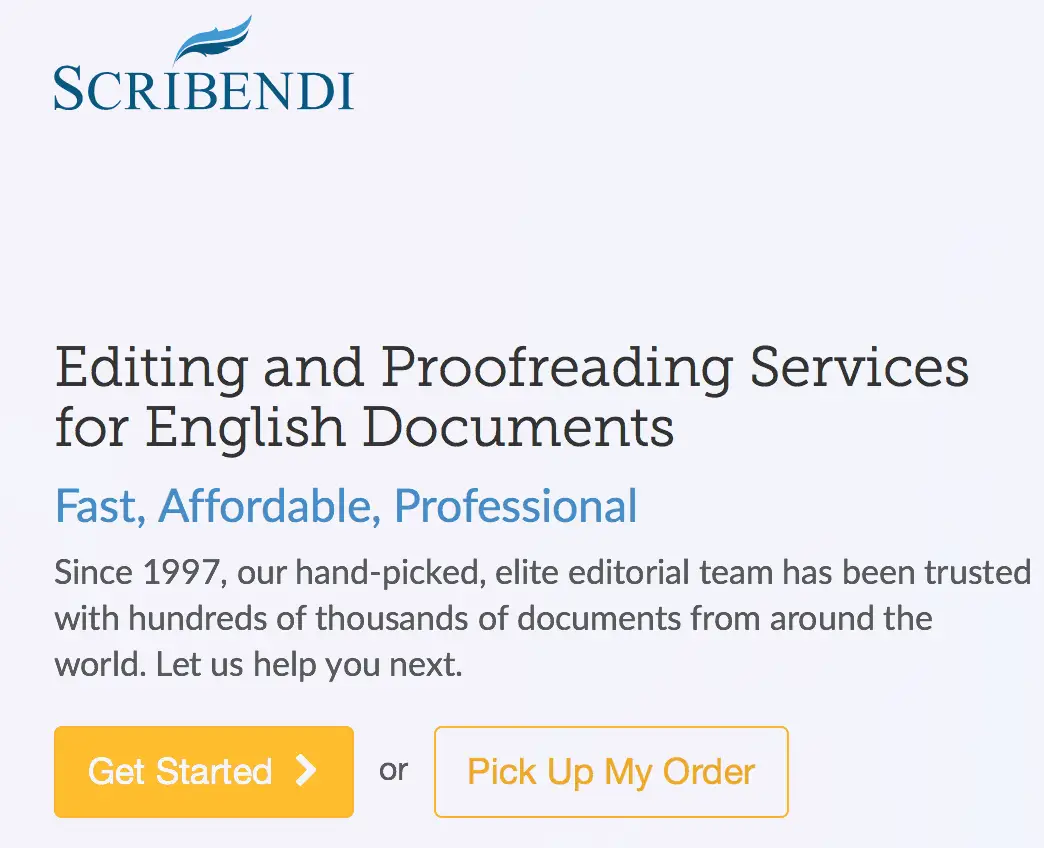 LinkedIn
If you don't have a profile on LinkedIn, I recommend you set one up now. LinkedIn can be an excellent way to attract potential proofreading clients. To effectively set up your LinkedIn profile as a marketing tool for your proofreading services, make sure you do the following:
Choose a professional profile picture
Use keywords in your headline – for example "Professional Freelance Proofreader"
Use the summary section to attract potential employers. Explain who you are, what you do and your relevant skills. Make sure you include a call to action – for example "Contact me to chat further about my freelance proofreading services"
Include any relevant work experience
Reach out to previous clients for endorsements
Freelancer
Freelancer is the world's largest online marketplace for freelancers, with 33.2 million registered users and 15.8 million jobs posted. It's free to sign up and create a profile with Freelancer with the company charging a fixed fee of 10% or $5 USD (whichever is greater) for any fixed priced projects you take on, and 10% for hourly projects.
Craigslist
Believe it or not, the "Gigs" section of Craigslist can be a goldmine for freelance proofreading jobs for beginners. The key to successfully finding proofreading jobs is to expand your search outside of your current location. Most proofreading jobs can be done virtually, so don't limit yourself to your immediate vicinity. For example, a recent search for proofreading jobs in Nashville returned the following result – a 98,000 proofreading/copy-editing job paying $500.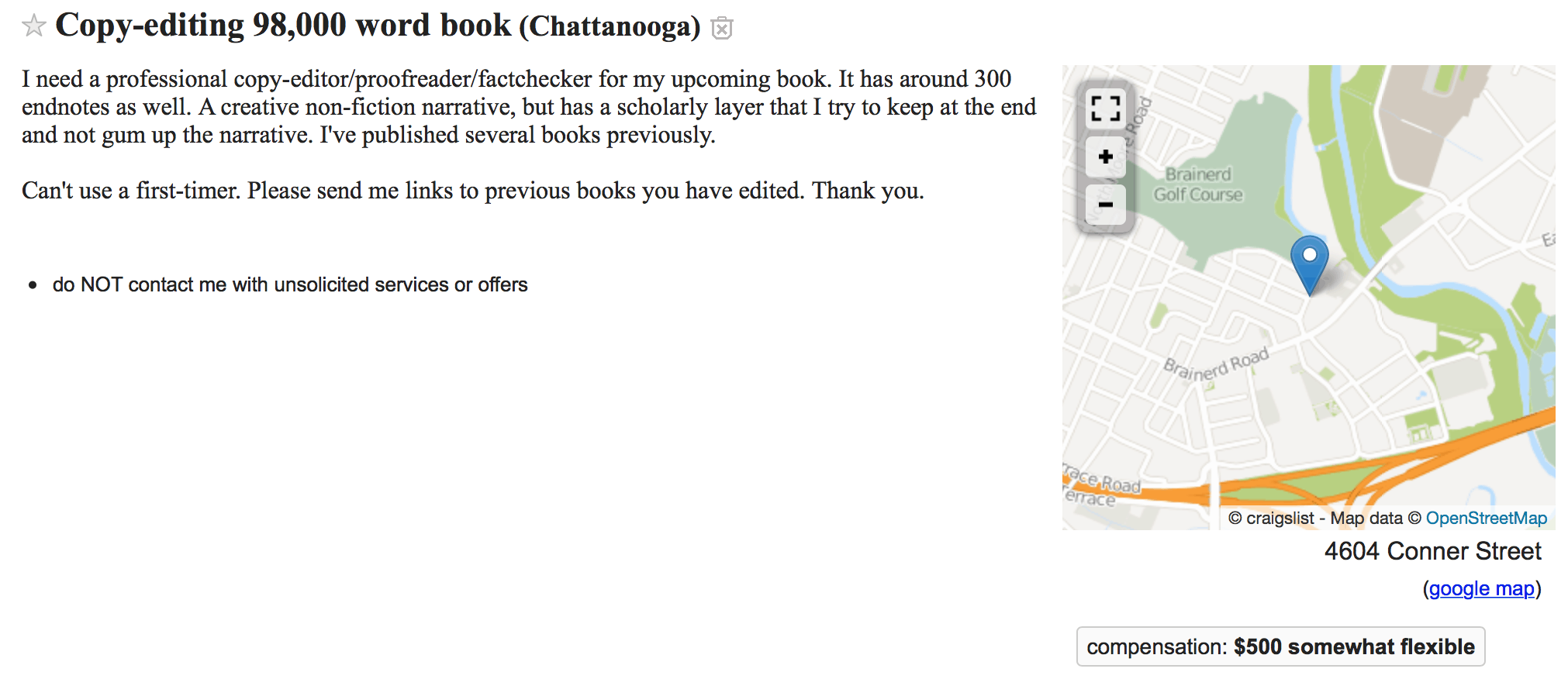 FlexJobs
FlexJobs is one of the biggest and most-respected sites for curated remote and flexible jobs. FlexJobs was founded 10 years ago, has been featured on sites like Time, Wall Street Journal, Forbes and NBC, and prides themselves on their high level of service and excellent track record of matching remote employers with skilled employees.
Fiverr
Fiverr is a "gig economy" where you can register and advertise your freelance proofreading services for a set price. When Fiverr was first launched, the maximum price you could list your gig for was $5 (as the name suggests) however they've since expanded the platform to allow freelancers to set higher prices for premium services (like freelance proofreading.)
If you're serious about finding a freelance proofreading job, I recommend signing up for as many of these platforms as you can. 
Often, freelance proofreaders take on a variety of short-term projects so the more visible you are, the more likely you are to find a steady stream of work.
In Conclusion
There are many places you can find work as a freelance proofreader. Once you learn how to become a freelancer, you just have to be consistent in looking for work and build up a regular clientele. Just like any work from home job, you'll need to be committed and work hard to get clients.
Are you currently making money by freelance proofreading? Leave a comment below and let me know how it's going! 
How I Make a Living Online
I personally created a 4-figure monthly passive income stream as a stay-at-home mom with no experience, no audience and without having thousands of dollars to invest upfront.

If you'd like to learn how I created a passive income stream like this and how you can do the same, then click here.