This post contains affiliate links, which means I may receive a small commission, at no cost to you, if you make a purchase through a link.
Affiliate marketing is one of the best ways for beginners to make money online. It has a relatively low barrier to entry and the opportunity to earn anywhere from a few hundred dollars a month all the way up to 6 and even 7 figures a year.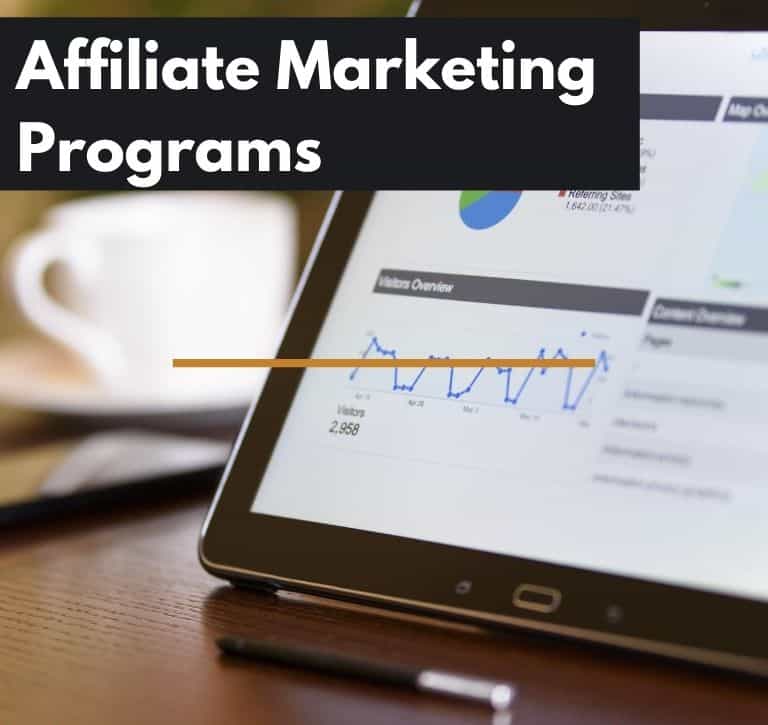 I make a full time income online (even though I still work a day job) and affiliate marketing makes up a decent portion of that income. I learned how to make money via affiliate marketing from Wealthy Affiliate (I started with the free starter membership!).
It's not hard to get started in affiliate marketing, it just takes some time and effort, but if you're motivated to walk away from that 9-5, or even just make a decent side income, it's totally worth it!
Learn more about Affiliate Marketing.
One of the most common questions I get asked by aspiring affiliate marketers is "what are the best affiliate marketing programs for beginners?"
Best Affiliate Marketing Programs for Beginners
There are literally thousands of affiliate marketing programs you can apply to join. This is great because it means the opportunities are endless.
However, it can also cause analysis paralysis. How do you choose the best affiliate marketing program when you're a beginner and there are thousands of programs out there?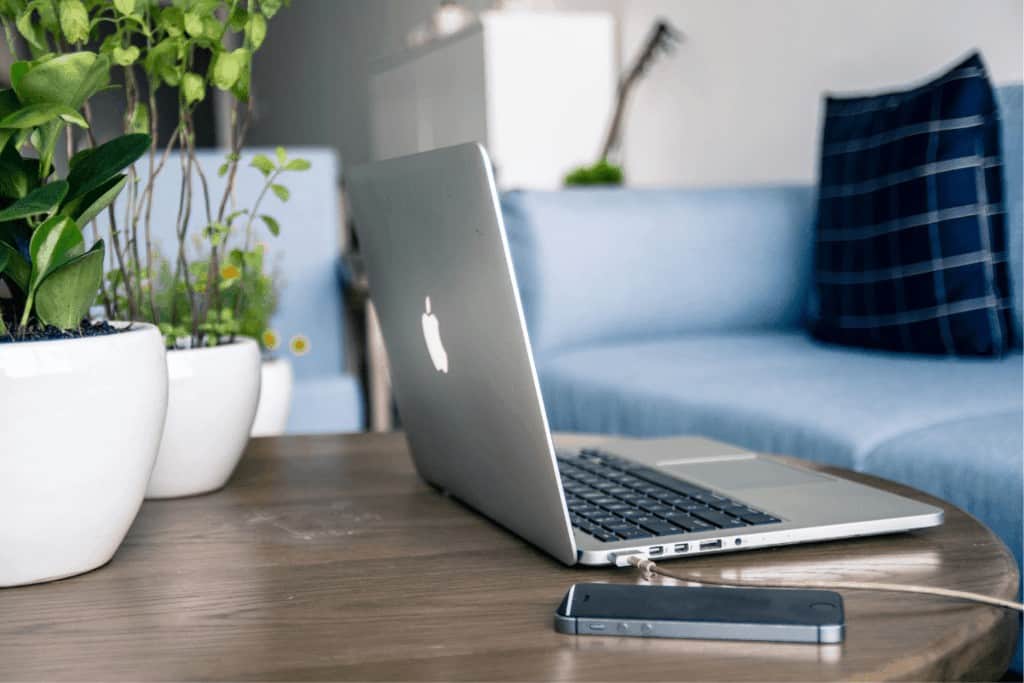 Amazon Associate's Program
The Amazon Associate's Program is one of the most popular affiliate marketing programs in the entire world, with millions of affiliates. And because Amazon sells virtually everything under the sun, you're almost guaranteed to be able to find something to promote to your audience.
One of the biggest benefits of being an Amazon affiliate is that you will receive a commission for anything a shopper purchases on Amazon in the 24 hours after clicking your affiliate link.
For example, let's say someone clicks on your affiliate link for a digital camera. If they purchase the camera in the next 24 hours, you'll receive a commission. But you'll also receive a commission for everything else they buy in that 24 hour period, regardless of whether they buy the camera or not.
Amazon affiliate marketing is very popular amongst bloggers, with some people building entire niche sites around Amazon affiliate marketing.
Learn how to make money as an Amazon affiliate with my ebook
You can join the Amazon Associate's Program here. To learn more about how to make money as an Amazon affiliate, check out my Amazon Affiliate Marketing ebook.
Affiliate Marketing Networks to Join
The best way to find affiliate opportunities is to join an affiliate marketing network. Affiliate marketing networks provide access to the affiliate programs of thousands of online merchants all under the one "roof."
For example, let's say you're in the healthy living niche. Instead of having to brainstorm 20 companies that might have an affiliate program, going to each companies website, searching for an affiliate program and applying, you can just log into an affiliate marketing network site, choose the category you're interested in and view all of the available affiliate offers.
You can then grab your affiliate links and start promoting the offers you're interested in. The affiliate marketing network also takes care of payments.
There are dozens of affiliate marketing networks. Some of them require an extensive application and interview process, while others allow anyone to sign up.
These are the best affiliate marketing networks for beginners to affiliate marketing:
Shareasale has partnered with thousands of retailers which means you're bound to find products to promote in your niche. I've been a member of Shareasale for a couple of years now and have always received my payments on time.
Another great feature of Shareasale is their user-friendly interface. Once you start joining affiliate networks, you'll start noticing how confusing the dashboard can be when you're logged in.
Out of all of the affiliate marketing programs for beginners, Shareasale has the cleanest, least confusing dashboard. To find affiliate offers to promote, simply click on "merchants" then choose from the categories listed.
Once you've been accepted to promote an offer, simple click on "links" to find your affiliate links.

FlexOffers was one of the first affiliate marketing programs I ever joined and it remains one of my favorites.
There are thousands of companies you can partner with in the FlexOffers network and they regularly offer limited-time promotional rates which you'll see when you log into your dashboard.

The best two features of FlexOffers are the FlexRev-$hare program and the auto-approve feature.
The FlexRev-$hare program allows you to earn up to 50% of the FlexOffers profit when you invite others to become a FlexOffers affiliate. You'll receive a special tracking invitation link and anytime someone joins using your link, you can earn money from everything THEY earn.
The auto-approve features means that once you've established yourself as high-performing FlexOffers affiliate, you will be granted the ability to be auto-approved for a number of offers. This means that instead of applying to become an affiliate and waiting (sometimes up to a week or more) to hear back, you can be instantly approved to start promoting a product.
iGain is another affiliate marketing network that comes with the benefit of a dedicated affiliate manager who can help you navigate the platform, suggest affiliate offers and assist with any problems that may arise.
The iGain dashboard is very simple and easy to use, as you can see from the image below. Simply click on "offers" then "browse/search" in the side menu to find offers in your niche. Then click on "live offers" to get your affiliate links.

If you're interested in promoting survey sites as an affiliate, then iGain is definitely worth signing up for.
MaxBounty is popular affiliate marketing network, with over 20,000 active affiliates. Unlike some of the other affiliate networks, MaxBounty has a more stringent application process and require a short phone interview.
However, with this more stringent application process comes some additional benefits. As a MaxBounty affiliate, you will be assigned a personal affiliate manager that you can reach via phone, IM or email. Your affiliate manager can help with any issues you might run into, suggest affiliate programs that might fit your audience and even negotiate higher payment rates if you're a high performer.
MaxBounty also has an excellent referral program which allows you to refer other affiliates and earn 5% of their revenue for the following 12 months.
Impact Radius
Impact Radius has partnered with hundreds of retailers. The easiest way to find affiliate offers to promote is via the "marketplace," which you can request access to once you've been accepted as an affiliate.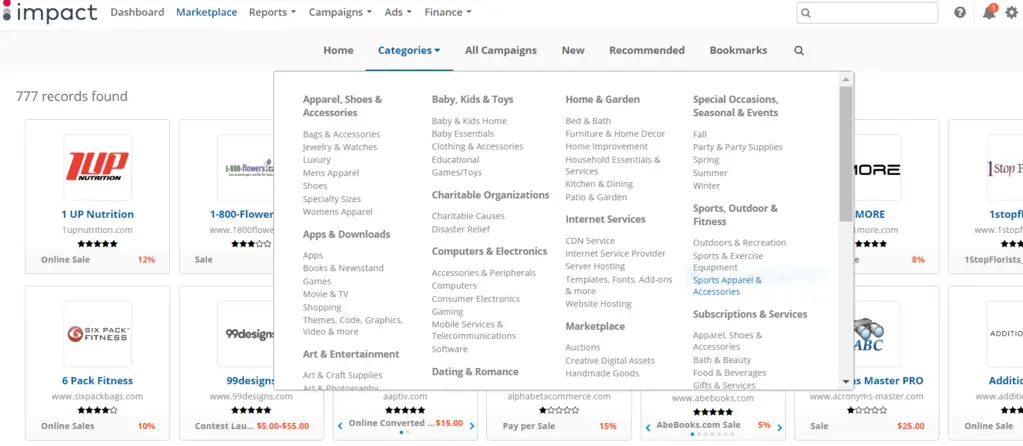 You'll need to apply to each company you're interested in being an affiliate for. Once you've been accepted, simply log into your dashboard, scroll down to the bottom where it says "Create a Link" and generate your affiliate links.

Clickbank
Clickbank is an affiliate marketing network that primarily partners with infoproduct owners, rather than retailers. There are thousands of offers available in a huge variety of niches covering everything from health and fitness to education, cooking, politics and more.
The commission rates on Clickbank are as high as 75%, which is incredibly generous. One of the best features of Clickbank (besides the 75% commission rates) is the ability to see how well a product selling. This can help you determine whether or not you should bother promoting a product.
For example, in the image below you can see that the product has a gravity of 211.07. Gravity is a unique calculation by Clickbank that scores a product based on how well it has been selling. Anything over 100 is considered very good, so it would be worth considering promoting this product.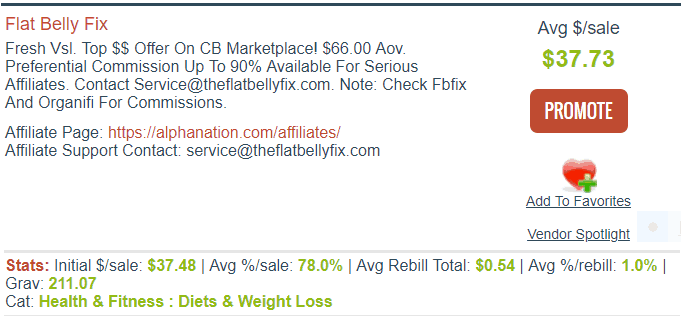 JVZOO
JVZOO is a popular affiliate marketing network with virtually all of their offers in the "Make Money Online" niche, but be warned – it can be like finding a needle in a haystack.
JVZOO is an infoproduct affiliate network, which means that all of their offers are for eBooks, online courses, etc. There are thousands of infoproducts and software on offer, but the vast majority of them are crap.
That's not to say that you should write them off completely, though. There are definitely some diamonds hiding in there, you just have to comb through carefully to find them. For example, one of the keyword research tools I use is listed as a product on JVZOO.
Commission Junction
Commission Junction is a popular affiliate marketing network with thousands of partners.
The Commission Junction dashboard isn't as user-friendly as Shareasale, but it's certainly not the worst affiliate dashboard I've seen.
However, one of the features I don't like about Commission Junction is that you need to state your monthly traffic in your application. If your traffic is deemed to be "too low" then your application will be rejected. However, higher traffic doesn't necessarily mean more conversions, so if you have a smaller audience, I recommend the other affiliate marketing networks for beginners over Commission Junction.
Pepperjam Network
Pepperjam Network is the final affiliate marketing program for beginners that I recommend you check out. The application process is fairly easy and there are hundreds of affiliate offers available.
The one thing I find irritating about Pepperjam Network is that their affiliate dashboard is not mobile friendly. As a busy mom, I do a lot of my work from my cell phone so it's annoying to have a non-mobile friendly dashboard. Something to keep in mind if you also find yourself working from your phone regularly.
Want to Learn How to Make Money via Affiliate Marketing?
Applying to affiliate networks is great, but you need to know how to actually drive traffic and get affiliate conversions.
If you want to learn how to make money via affiliate marketing, then I recommend claiming your free starter membership to Wealthy Affiliate.
You can also read this complete review of Making Sense of Affiliate Marketing.
How I Make Money Online
I personally created a 4-figure monthly passive income stream with no experience, no audience and without having thousands of dollars to invest upfront.

If you'd like to learn how I created a passive income stream like this and how you can do the same, then start by learning about affiliate marketing for beginners. In addition, here are some other, less passive, ideas to make money from home so you can quit that 9-5.
Leave a comment below and let me know what you're doing to start making money online!