This post contains affiliate links, which means I may receive a small commission, at no cost to you, if you make a purchase through a link.
Learn about all the steps required to start a bookkeeping business. A bookkeeping business is low cost to start and can be very lucrative!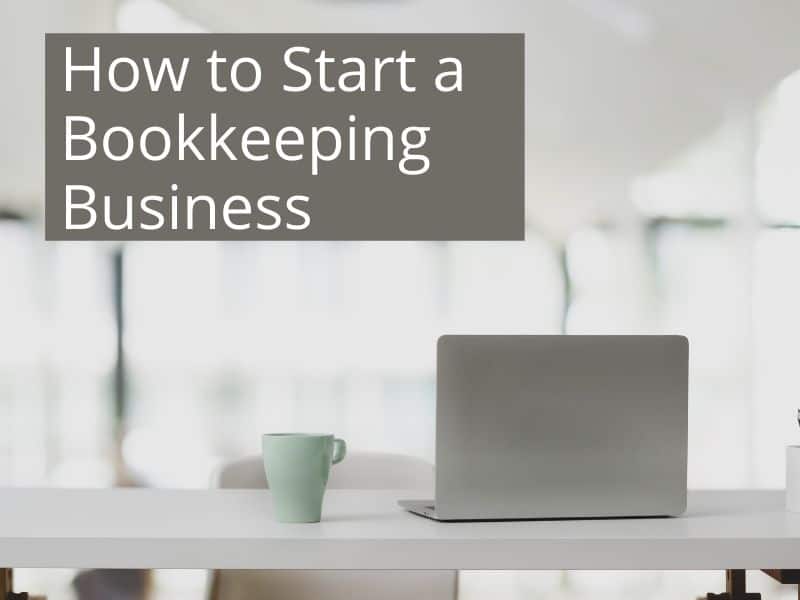 If you've ever dreamed of working from home and being your own boss, and you love working with numbers, you may want to think about starting a bookkeeping business.
Perfect for those who want to earn extra money on the side or work from home full time, bookkeeping offers the freedom to do either! From taking on a few clients to make some extra money, to building a 6-7 figure business where you employ multiple people, the opportunities are endless.
I absolutely love working from home and owning my own business. It provides the freedom to work when and where I want, as well as endless opportunities to continue increasing income (unlike a job where you can only go so far).
Bookkeeping is a great way to get started on that journey. Especially if you still have a full time 9-5.
Businesses will always need someone do do their books – bookkeeping is not going out of style any time soon!
But I'm not going to sit here and tell you it will be easy. Starting a business takes a lot of hard work. You may want to find out of you have the qualities of an entrepreneur before starting.
But once it's set up and running, it just keeps getting easier.
And if your goal is the 4 hour workweek (if you haven't read The 4 Hour Workweek by Tim Ferris, you definitely need to!), a bookkeeping business can help you get there!
What Does a Bookkeeper Do?
A bookkeeper can actually do many different functions for a business, depending on the business needs. The main task is the preparation of financial statements (balance sheet, income statement and statement of cash flows), but can encompass any of these other duties as well:
Accounts payable management
Accounts receivable management
Asset tracking
Preparing invoices and making payments
Tax preparation and support
Payroll
You can structure your business to offer any or all of these services, as well as any other services a customer may request. That's the beauty of owning your own business. YOU choose it.
What Does it Take to be a Bookkeeper?
To be a bookkeeper, you need to be an organized, detail-oriented person. You must be able to handle multiple projects at once, and also be willing to work very hard.
An ability to work with numbers and spreadsheets is a must. You will be keeping the books for businesses, so it's very important that you're able to pay attention to details and provide accurate, error free data to your clients. They will be making business decisions off the data you provide so accuracy is very important.
NOTE: You do not need bookkeeping experience to start a bookkeeping business! As long as you have these traits, you should be successful.
How Much Do Bookkeepers Make?
According to Payscale.com, a bookkeeper makes an average of $17.57/hour (as of October 2020). This varies depending on the region you'll be operating in, and also varies based on experience.
Note you will be able to charge more if you and/or your employees are certified, experienced and provide exceptional service to your clients. There are a lot of bookkeeping professionals running businesses that are far exceeding this average (bookkeepers.com claims you can make $60/hour).
And there are those who started bookkeeping business and have grown them into 7 figure businesses. The amount of money you make is totally up to you!
Bookkeepers.com is a website featuring support and training for those looking to start a bookkeeping business, or those that are already running a business but want to take things to the next level.
The steps below will get you started, but if you want in depth training on becoming a bookkeeper, I highly recommend taking the Bookkeepers free training series.
If you enjoy the free series, you'll definitely want to check out some of their paid products as well. They offer products such as:
How to Build a 6 Figure Business
The Best Pricing and Packaging Techniques
Cybersecurity for Bookkeepers
 Marketing & Inbound Sales
Check out their sales page to see a complete list of courses and support they offer.
I am a huge believer in investing in your business. So while you can get started for a minimal amount, if you plan to grow a large business, you will need to invest in the business. And training should be a huge part of that investment.
Start a Bookkeeping Business
If you've decided you have what it takes, and are ready to go, here is what you will need to know to get started in your new business venture.
How Long Does it Take
Depending on your experience, you can have your business up and running in as little as 2 months. If you've never done bookkeeping before, it will take you a bit longer to get your business running as you'll need some training.
Being adequately trained is vital to the success of your business, so the time it takes to start depends on how much training you do and how long it takes you to do it.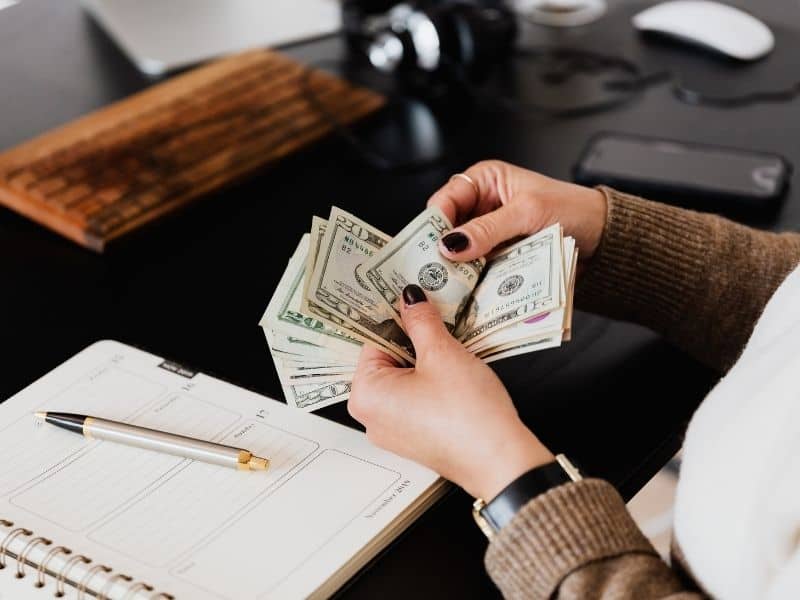 How Much Does It Cost 
The cost for starting this kind of business is relatively low, mainly because it can be started from your own home. And if you plan to do the bookkeeping yourself when starting out, you're saving a ton of money.
Many businesses will require a brick and mortar location, as well as payroll associated with employees. You can start a bookkeeping business right from your own home!
Here are some of the initial expense you can expect to incur to get started:
Cost of a laptop, if you don't already have one – $1,000
A printer/scanner – $250
Obtain Bookkeeper Certification (see below for programs) – $150
Quickbooks and/or Xero (see below) – Free certification, then approximately $150/month
Office Supplies – $100
Errors & Omissions Insurance – $300/year
Website creation – $200
Business setup/licensing – $200-$1,000 (varies by state)
Your business could cost anywhere from $1,500 to $2,500 to startup as an owner/operator. That's not bad considering many brick and mortar companies shell out tens of thousand to get started.
If you're lacking some money, here are some ways to start a business with no money. You can also make 300 dollars fast to help pay for some of these expenses.
Equipment & Software Required
A laptop and printer/scanner are going to be necessary to run this business, as well as bookkeeping software like Quickbooks and/or Xero.
I recommend starting with one program first and requiring clients to use that program. Quickbooks is typically the most popular. As you gain more clients, you can consider adding more options for clients.
I also recommend becoming certified in Quickbooks. It's another way to show clients you're qualified, as well as providing the much needed training and background in the program itself.
Training & Certification(s) Required
While certification is not required to become a bookkeeper, you will appear more professional to clients if you are certified. I HIGHLY recommend getting certified before starting your business.
There are exceptions – for instance, if you are a Certified Public Accountant (like I am), you don't need to also become a certified bookkeeper. Having the CPA designation will show your potential clients you are credible.
You can get certified 2 ways:
Whether you get certified or not, you will want to make sure you are doing plenty of research and training. You need to understand what you're doing before you take on clients. Training is very important!
Find Your Market
This is where you need to decide what your business is offering. What kind of clients will you be serving? What is your mission?
It's tempting to start marketing to all the businesses out there. However, it will help you in the long run if you choose a niche.
By that, I mean choose a type of business you will specialize in, i.e. online blogs, construction, restaurants, etc. Then become an expert in that industry and you will be far more successful than just using the "spray and pray" method.
This helps you choose who your ideal client is, and will help you market to them more effectively.
You also need to decide how large your business will be. Will it just be you? How many employees do you envision? Do you want to work in your business or on your business (read the E-Myth to learn more about working ON your business)? Meaning, are you planning on doing bookkeeping, or running the business?
These are all questions you want answered before you delve any deeper.
Set Up Your Bookkeeping Business
You will need to choose your business name and set up your business structure (Sole proprietorship, LLC, S Corp, C Corp, etc.) before you start to operate. I don't recommend sole proprietorships myself as it opens you up for personal liability. 
You can hire a lawyer or use an online service like LegalZoom to set up your LLC. I've been happy with LegalZoom in the past, but it's better for non-complex business startups.
When choosing your business name, also check the availability of website domain names as you will want to set up a website for your business. You can use Godaddy.com to search for and purchase domain names.
Choose a name that reflects your business. Don't choose Danielle's Cake Making if you're opening a bookkeeping business. Choose something like Danielle's Bookkeeping. You get my drift.
This post on How to Create a Virtual Assistant Website has step by step instructions for getting any website set up and running. 
Once your business structure is set up, you'll want to open a business bank account. I personally use Chase Bank, but a smaller bank will give you a better banking relationship for future needs.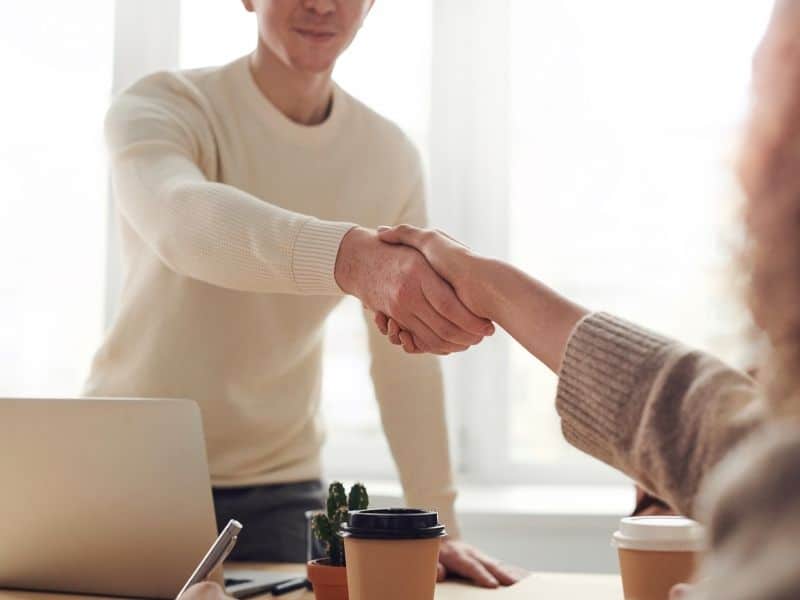 How to Get Clients
The first step in getting clients is to tell everyone you know that you are starting a bookkeeping business. It's amazing how many leads you can get just from that.
Here are some other ideas for getting bookkeeping clients:
Run an ad on Craigslist – you'll be surprised what you find!
Set up a Facebook Business Page. You can also run Facebook ads.
Make sure to keep your LinkedIn page updated.
Create a website and optimize it for Google search results. You can also pay for Google ads to be featured at the top.
Get your business listed on Yelp so it comes up in a search. You can run ads here so your business shows at the top.
Send out mailers to targeted business.
Thumbtack is another great way you can advertise your business locally.
Word of mouth – once you have clients and you do a great job, encourage them to refer you to others.
The Easiest Way to Get Started
The free training course from Bookkeepers.com really helps you with the step by step of starting a bookkeeping business.
They also offer what is called Bookkeeper Business Launch that can really help you get your business launched and profitable! There are three levels of support, depending on your price point, but all options offer great training and support.
Bookkeeper Business Launch is only open for registration certain times of the year. Email me at [email protected] for registration dates if the program is currently closed.
Are you just getting started? Comment below and let me know what's keeping you from starting!