This post contains affiliate links, which means I may receive a small commission, at no cost to you, if you make a purchase through a link.
If you've been looking for legitimate ways to make money online, you've probably come across Monat shampoo and now you're wondering, is Monat Shampoo a scam? Read this full MONAT Shampoo review for the full story on .
First of all, I applaud you for taking the time to research Monat Global before you take the word of a distributor who wants you to join their team.
You've come to right place for information on whether Monat Shampoo is a scam – I'm dedicated to helping people avoid being taken advantage of and parting with their hard earned money because they've been given the false promise of quick and easy profits by an MLM (Multilevel Marketing) company.
You may also want to learn whether Arbonne is a pyramid scheme and read this complete review of AOJ work from home jobs. 
With that being said, let's dive into this review and find out if Monat is a pyramid scheme, or a legitimate business opportunity…
MONAT Global Review Summary
Product Name: Monat Global
Founder: Luis Urdaneta
Product Type: MLM Hair Care Company
Price: $99 upfront + all the expensive products
Best For: The owners of MONAT
Summary: MONAT Global is a multi-level marketing haircare company founded by Luis Urdaneta. The company has been growing rapidly thanks to a small army of distributors who shill the product on social media, showing alleged "before and after" pictures of their hair after using MONAT products.
However, over the past year multiple lawsuits and damning reviews are being made about MONAT by unhappy customers and distributors who are claiming that MONAT has damaged their hair and caused it to fall out, amongst other things.
Rating: 10/100
Recommended: No.
What is an MLM Company?
Before we dive into the details on the MONAT scam, let's chat a bit about what an MLM company is. If you've heard of companies such as Amway, Avon, Tupperware, etc. you've heard of an MLM company.
Basically how it works is this: you buy products from the company, then sell said products to earn back your investment, plus any profit.
You also earn money by referring other members to the MLM company. And the more people you refer, the more income you make. And then more people they refer, the more income you make, and so on.
In fact, it's the recruiting that makes people the most money, which is why people who work at these companies try to hard to sell you on becoming a member.
So the person at the top of the triangle (ahem…PYRAMID) makes the most money, while the people at the bottom make the least. In fact 99% of all people who try an MLM marketing method lose money.
The one difference between and MLM company and a pyramid scheme is that an MLM company has a physical product they sell, whereas a pyramid scheme is taking money from a new member with the promise to pay after they recruit new paying members with no actual product to sell.
Now that we've cleared that up, let's go on to learn whether MONAT shampoo is a scam or a legitimate way to make money.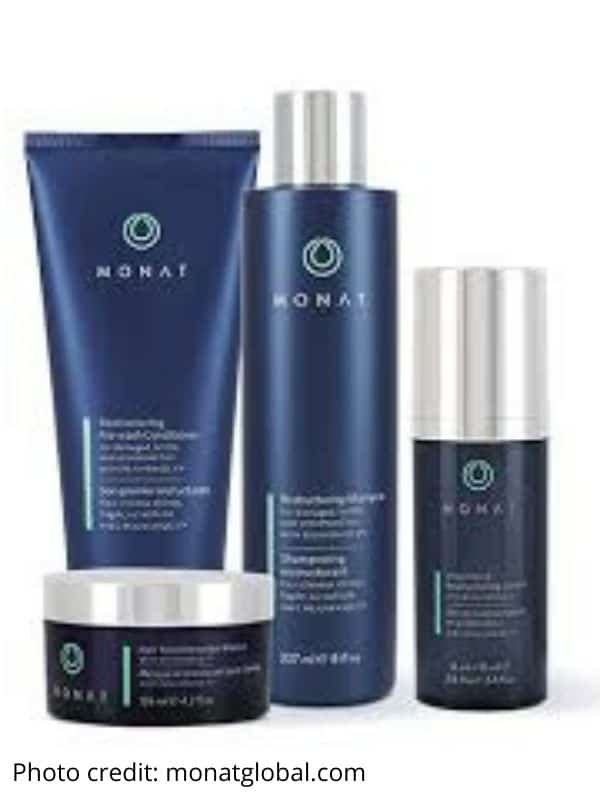 What is MONAT Global?
MONAT Global is a multi-level marketing company that sells a "line of premium hair care products and systems."
MONAT Global was founded in 2014 by Luis Urdaneta and his family, and is headquartered in Miami, Florida.
Thanks in part to it's vast army of "market partners" who promote the MONAT Global product line on social media, MONAT Global has experienced quick growth in the billion dollar hair care industry.
Member earn money by selling MONAT hair care products, as well as recruiting other members into the company.
However, in the past year MONAT Global has been the subject of an increasing amount of negative reviews and class action lawsuits which accuse MONAT Global of fraud and deception.
Who Does MONAT Global Target?
MONAT Global states their vision is "to be a global leader in naturally based, anti-aging innovation—with an unrivaled business model that enhances the self-confidence and financial well-being of one million families around the globe each year." 
In other words, MONAT Global aims to grow their business and revenues through enticing "market partners" to join the company and promote their products for them.
From my research, it appears that the largest demographic current market partners target is stay-at-home moms with young children who are active on Instagram.
MONAT Global Compensation Plan
The MONAT Global compensation plan is similar to other multi-level marketing companies.
To join MONAT as a market partner, you will need to purchase one of the following starter packs in addition to an annual $49 sign up fee:
Starter Kit ($99)
Business Product Pack ($299)
Success Product Pack ($399)
Overachiever Product Pack ($649)
Once you've purchased your starter pack, there are various ways you can potentially make money with MONAT Global, including:
Commissions on sales
Sponsoring people to join under you
Business builder bonus
Rank advancement bonus
VIP customer acquisition bonus
Smart Smart bonus
MONAT Global, like most multi-level-marketing companies, has various "ranks" that market partners can move through. These include:
Market Partner
Managing Market Partner
Associate Market Builder
Market Builder
Managing Market Builder
If you want to read more about the MONAT compensation plan, click here.
Does MONAT Shampoo Cause Hair Loss?
Of course, MONAT Shampoo is not going to cause hair loss for everyone who uses it. However, there is a growing number of complaints from people who claim that MONAT shampoo caused their hair to fall out and even burned their scalp.
I don't know about you, but I'm not chancing it.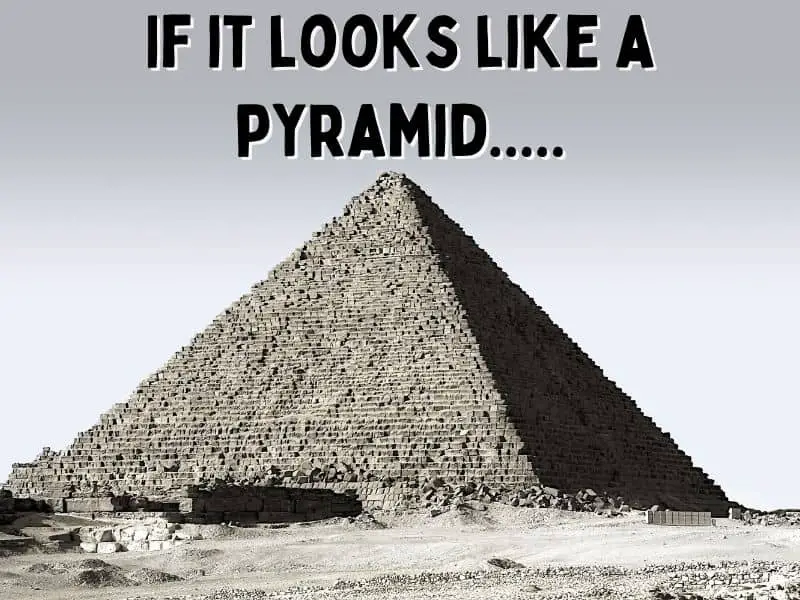 How Much Money Can You Make With MONAT?
That's the ultimate question, right?
If you've been approached by a market partner, there's a chance they've told you how they make "$10,000 a month selling shampoo" or a similar claim.
The first thing to note is that the VAST majority of people who join a multi-level-marketing company don't make any money. In fact, most people end up losing money.
According to research by the FTC, a whopping 99% of people who join a multi-level-marketing company LOSE money.
MONAT Statement of Typical Earnings
In MONATs 2019 Income Disclosure Statement, you'll note that the average of all market partners at all ranks is $809/year. A YEAR. Almost 94% of market partners made less than $100 in a year.
Now this includes active and non active – but as you'll note, inactive partners are just those who didn't earn any commissions. Really the only people making money here are those at the top.
That's not to say there aren't SOME people who make money. There are some, but like we stated earlier, 99% of people who join MLm companies never make a dime (they actually lose money, like all those "inactive" partners here may be doing).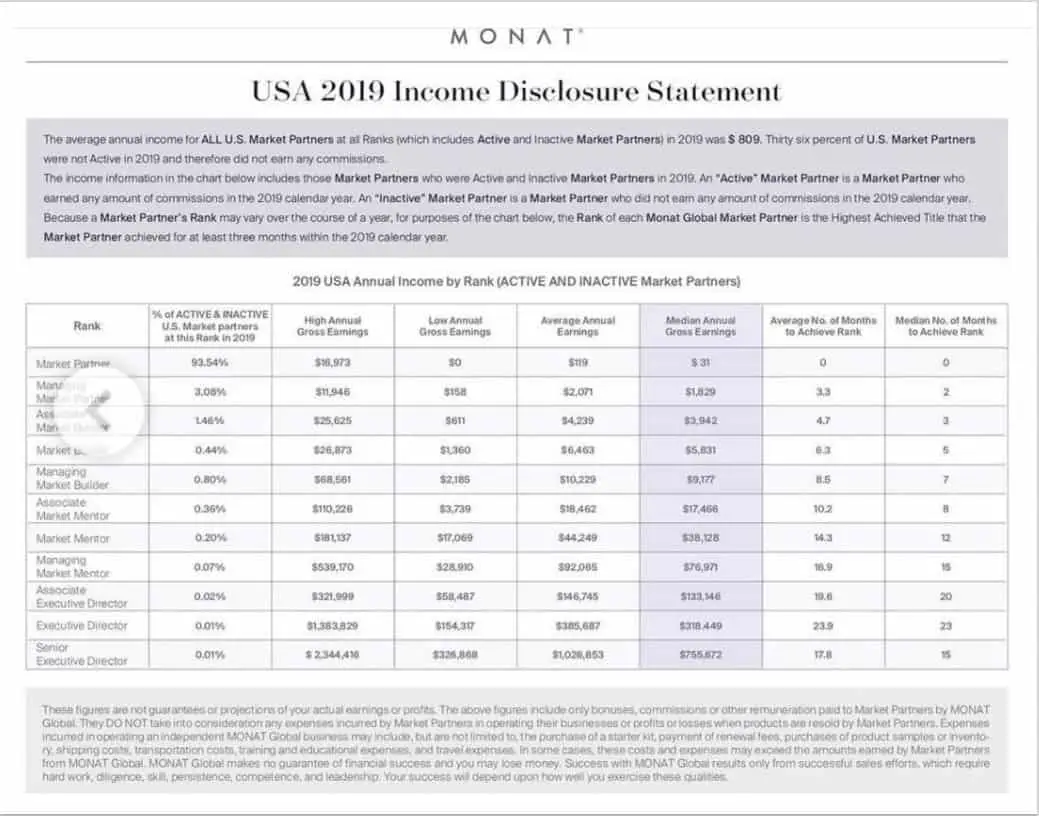 While there may be some MONAT market partners who earn a full-time income selling shampoo, the statement of typical earnings shows that this is not representative of the vast majority of MONAT market partners.
MONAT Class Action Lawsuits
As I mentioned above, MONAT Global is the subject of numerous class action lawsuits.
A class action lawsuit means that people have filed legal action against MONAT Global. If you'd like to read the legal documents relating to these lawsuits, here are the links:
In addition, Audet & Partners, LLP is looking for people who have experienced scalp irritation and/or hair loss after using MONAT products to contact them for a free, confidential case evaluation.
MONAT FDA Investigation
If hundreds of negative ratings on BBB and multiple class action lawsuits wasn't bad enough, MONAT Global's Miami-based manufacturing plant was visited by an FDA inspector in 2018.
The FDA found that Monat's products were "prepared, packed, or held under insanitary conditions whereby it may have become contaminated with filth."
You can read the full FDA report here.
MONAT Better Business Bureau
MONAT Global has a Better Business Bureau (BBB) rating of "B-" and has over 1,000 complaints. It has not been accredited by the BBB.
See MONAT Global BBB rating here.
Additionally, Better Business Bureau released the following statement regarding a high-level of complaints received in January 2018. The hundreds of complaints received in January 2018 appear to be from employees or sales affiliates (known as "market partners) of MONAT Global.

In Conclusion: Is MONAT Global a Scam?
MONAT Global is similar to any other multi-level-marketing company.
The products are expensive, and unfortunately, the majority of people who join MONAT are unlikely to make money selling shampoo.
In my opinion, multi-level-marketing companies are not recommended for people who are serious about making money online.
Any if ANYONE makes promises or claims to you that sound too good to be true, be VERY wary.
And if you want my honest personal opinion? I think MONAT Shampoo is just a pyramid scheme in hiding. Don't waste your money on this "business opportunity."
If you really want to put the time and effort into starting your own business and/or making money from home, you can do better than $100/year. Try some of these options:
Have you tried the MONAT Shampoo system to make money? Comment below and let me know your experience!