This post contains affiliate links, which means I may receive a small commission, at no cost to you, if you make a purchase through a link.
Learn the pros and cons of becoming an Arbonne consultant and whether or not you can make money. Is Arbonne a pyramid scheme, or a legit money-making opportunity?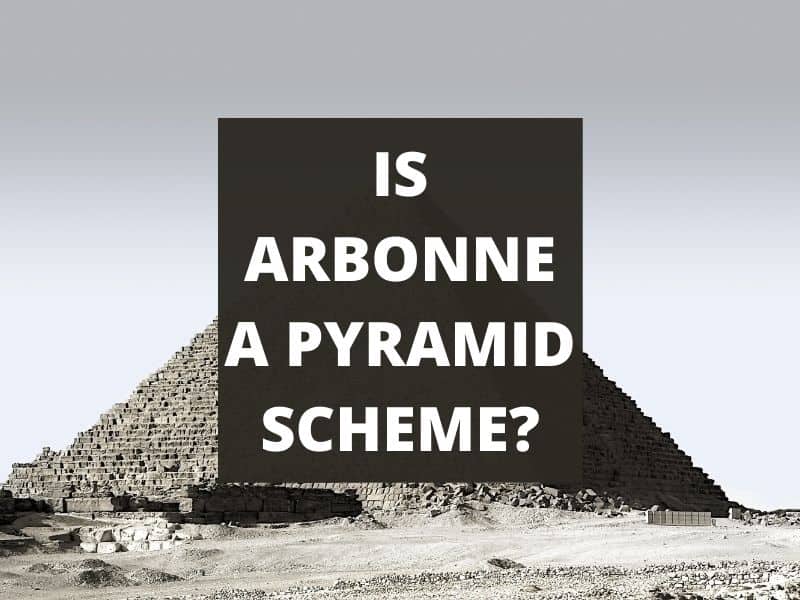 Ahh the retail therapy home party! If you've ever had a friend involved in any of the home-based businesses like Arbonne, Tupperware, Pampered Chef, Tastefully Simple or Avon, then you've probably been invited to a retail home party. 
And, you may have had mixed feelings about going. I know I have!
On one hand, it's fun to see new products that aren't available in stores. Plus, in the home-based party setting, you usually get to try these products out before you buy which is a total bonus. 
On the other hand, sometimes you can feel pressure to buy! You don't want the hostess to have gone to the trouble of hosting you in her home and not reciprocating without making a purchase. 
I honestly hate stuff like this. I hands down will not go to a party like this anymore.
Why Do People Like Direct Sales Businesses?
You may be a fan of home-based party companies. You may even be a representative for one of these companies.  
And that's fantastic because they can be good business opportunities and a nice way to make extra money. Some people do make some money working as consultants for these multi-level marketing companies such as Arbonne. 
Most MLM's, including Arbonne, use a direct sales approach, often utilizing the in-home party sales model. Because the sales often take place in private homes, usually at night or on weekends, it's a great way to work part-time "after hours" and make additional income. 
Most consultants treat their Arbonne consulting business as a side business and count any money earned as additional income rather than a primary income.  
Home party companies are nothing new. Some of these companies have been around for years and are extremely popular, super solid companies that fill a need for consumers. 
The good home-based party companies offer great products, and give great value for your dollar.  
And, it's definitely convenient and fun to shop with your friends while snacking on appetizers and adult beverages! 
That being said, it's kind of tough to understand how these companies work and if you can actually make decent money as a home party representative.
It's important to note that 99% of people who try to make money with one of these companies don't end up making anything, and in some cases even lose money.
I think sometimes there's a lack of understanding about exactly how these types of home party companies, including Arbonne, are structured. And I've even wondered if Arbonne is a pyramid scheme.
So, I've decided to research Arbonne specifically to get some answers regarding how the company works and whether Arbonne is a pyramid scheme.
What Is Arbonne?
Arbonne is a home party-based business that sells health and wellness related products like skincare, nutrition products, and beauty products.
They advertise that they believe in a plant based, holistic approach to beauty, health and well-being. They focus on the whole person and have a "Be Well, Live Well" philosophy.  
In fact, their mission statement is to "transform lives through pure botanically based ingredients in scientifically tested products".  
And, they've been around for quite a while – since 1980 when Arbonne was founded by Petter Morck. Arbonne now operates in several countries throughout the world besides the U.S.  
These countries include the United Kingdom, Canada, Poland, Australia, New Zealand and Taiwan.
What Products Does Arbonne Offer?
Plant Based Nutrition Supplements
Bath & Body Spa Products
Botanically-based anti-aging skincare for women & men
Botanically-based cosmetics & hair products
Sports Nutrition Products
Baby Care Products
What Is Special About Arbonne Products?
There are some benefits to using Arbonne products.
Arbonne products are high quality, plant based, 100% Vegan and Cruelty Free
They're top-notch products and they're expensive. All products have the following core characteristics.
High Clean Standards
The standards prohibit thousands of ingredients from being used in their products. Think of things like parabens and common allergens.
Products Are Co-Developed with Experts
Arbonne collaborates with experts in the integrative and holistic health fields to make their products.
Scientific Testing
Arbonne's products are subjected to rigorous testing for product safety. So, you can feel safe with the products you and your family are using.
Can You Really Make Money Selling Arbonne?
Arbonne offers four potential ways to make money.
1. Earn commission on your own sales.
2. Earn commission on your team sales.
3. If you reach the Vice President level, you will qualify for their Mercedes-Benz cash bonus program.
4. You'll qualify for a bonus at every level of management based on your team's performance.
So yes, there are different ways to potentially make money with Arbonne.  
However, the only way to make good money with Arbonne, or any MLM (Multi-Level Marketing) Business is to recruit people to be under you in the pyramid structure. 
Once you have people under you, you'll make commission from their sales. 
Sure, you can make some money from commissions you get on product sales, but that's not truly significant, because in truth, how much product can you really sell? 
According to the Arbonne website, the average consultant earned between $120-$502 in 2019 in earnings and commission. That's not much, even for a part-time gig. 
The Arbonne Pyramid Team – How Does Arbonne Work?
Obviously, you only have so many people in your network to reach out to. It's a finite list and once you've exhausted your contacts, you'll need new contacts in order to sell more products.  
This is why you'll need to recruit people to be on your Arbonne "team". 
Once you have people on your team, you'll earn a commission on anything your recruits sell. And when those recruits get recruits under them, you'll earn a cut of what they sell. And so on.
So, the real way to make money with any MLM, including the Arbonne MLM is to recruit people who will work under you in the pyramid structure.  
Since you'll earn a commission on anything your recruits sell, and then when those recruits get recruits under them, you'll earn a cut of what they sell, too.  
So, here's where the earnings can really add up. And this is why people wonder if Arbonne is a pyramid scheme.  
It's not really possible to make good money without your recruits. And their recruits.
You see, the pyramid structure of the company is such that you're truly only going to make real money if you're at the top of the pyramid.  
Let's say you become an Arbonne consultant and recruit 5 people to work on your team.  
Then those people each recruit 5 people to be on their team. And those people each recruit 5 people to be on their team.  
You'll receive commission on any of the sales that any of those Arbonne consultants make.  
But if you haven't recruited anyone to be on your team, the only money you'll make is from the commission on products you've sold. 
Most likely, you'll make very little money because the scale just won't be there.
MLM vs. A Pyramid Scheme
MLM (Multi-Level Marketing) Companies are companies that have individuals who sell products to the public usually by direct sales in home parties or online.
The customers who buy from MLM's often tell their friends and family about the products they purchased, so these friends and family also buy from the MLM.  
A Pyramid Scheme, on the other hand, is a scam. A company that uses a pyramid scheme will require you to recruit other people to work at that company.  
And, before you can sell any products, you're required to buy your products first or at least some kind of training kit like you do as a consultant for Monat Global (is Monat a scam?). 
And, then you're often required to buy those products at regular intervals. With a pyramid scheme, you will spend money upfront in order to sell the products offered.  
Both Multi-level Marketing companies and pyramid schemes have shady reputations.  
According to the FTC, after studying quite a few MLM's, they concluded that only 1% of employees (or less) make money with multi-level marketing companies.  
That is not a typo. Only 1% of people make money within the MLM structure. So that means that there's a gigantic failure rate of 99%!  
To break that down, out of 100 people a full 99 of them will not make money working with an MLM company.
Those are crazy odds you should think about before you embark on a career with an MLM like Arbonne.  
So, as you can see, your chances of making significant money with Arbonne are pretty low. It's not impossible, but definitely not probable.  
You may also want to read about LeVel Thrive or 22 Minutes to Profit MLM companies, as well as this AOJ work from home jobs review.
Is Arbonne a Pyramid Scheme?
Arbonne isn't necessarily a pyramid scheme. They have decent products that appeal to a wide variety of people. And they offer a 45- day money back guarantee on all their products. 
Arbonne has been around for more than 40 years and has made a name for itself as one of the premier eco-friendly wellness and beauty companies.  
And Arbonne is recognized as a Certified B Company – meaning that they've been shown to meet the highest standards of verified social and environmental performance, public transparency, and legal accountability to balance profit and purpose. 
So, Arbonne may be like a pyramid scheme, but it is rated highly in some regards. And, it does have satisfied customers who believe in their products and their culture of promoting well-being. 
However, I don't believe in Arbonne as a legitimate way to make money.
Is Arbonne a Legit Way to Make Money?
Arbonne may be a legitimate company with top quality, ecologically friendly products.
However, I don't believe selling Arbonne products is a legit way to earn money.
It's also true Arbonne has been called a pyramid scheme in disguise. So, the legitimacy of Arbonne as a way to make money is somewhat subjective.
If you're interested in purchasing vegan, eco-friendly top of the line products, then you may consider Arbonne to be legitimate.
If you're considering becoming an Arbonne consultant and are interested in Arbonne as a money-making venture, Arbonne is less legitimate from this standpoint. There are much better ways to make money like these:
And honestly, you can learn how to make $300 fast, which is more than most people make in a year of selling Arbonne.
In Conclusion
While Arbonne products are not terrible products (some people actually love them in fact), selling Arbonne to make money is not much different than the way a pyramid scheme operates.
The ability to make money really is based on your ability to get others to sign up as opposed to actually selling the products. And 99% of people who try to earn money this way fail. So you decide….