This post contains affiliate links, which means I may receive a small commission, at no cost to you, if you make a purchase through a link.
Learn how to make 300 dollars fast! There's a ton of ways to make money these days. Either online or off, you have options when it comes to making extra cash.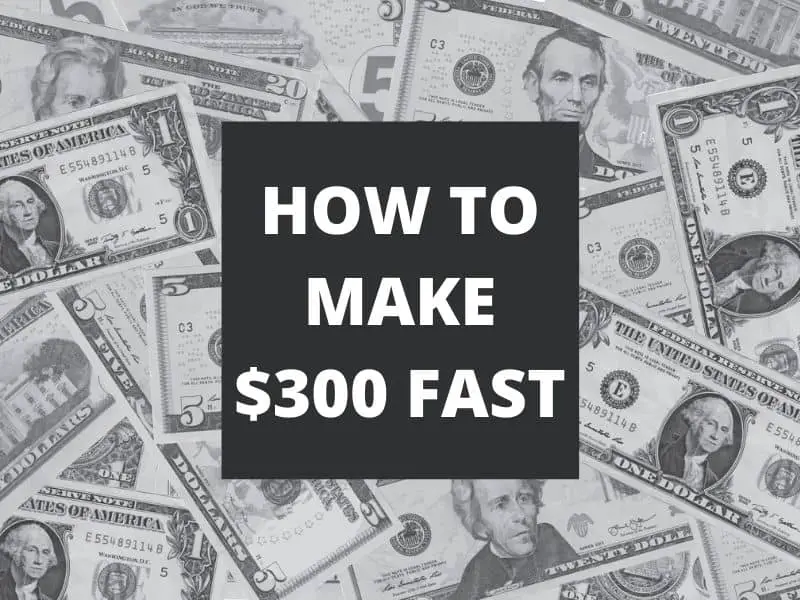 So, whether you need to make $1,000 every month or just need to make 300 dollars fast, it is definitely possible. You can also make $200 fast with these 10 ways.
Let's face it. It's tough to pay the bills sometimes. Even an extra couple hundred dollars can be the difference in making your monthly budget or totally busting it. 
For instance, if you can make an extra $300 dollars a month, that could pay your car payment, or at least a big chunk of it! Or you can save it for your vacation fund…or my personal favorite, put it in the bank and keep saving for the day you leave that 9-5!
And, making an extra $300 may not take as many hours as you think.
In fact, there are a lot of ways to make some extra dough. These online jobs paying daily are a good place to start also.
Ways to Make $300 Fast
You can make extra money online or offline, and in so many different categories. Think about what you're good at and start there! Read on for our top ideas on how to make 300 dollars fast.
Deliver For Uber Eats
Driving for Uber Eats is a great way to make good money. You can easily make $300 within a month. And that's if you're delivering for Uber Eats very part-time. 
If you drive more often, you'll make $300 even faster. It's easy work, too. All you do is sign up online at Uber Eats, and complete some information including a background check.
Once you're approved, you download the app and pick which deliveries you want to do. So, you pick your hours and delivery area.
And, when you make your delivery, most people tip so you'll make tip money as well!
Sell Your Old Stuff Online
This is a tried-and-true method to make extra cash. 
There are so many places to sell your stuff online. And it's true what they say about one man's trash being another man's treasure. 
I know people who have practically decorated their entire house with furnishings bought on Craigslist, Facebook Marketplace and Offer Up. 
If you price it right, whatever it is, someone will buy it! And for clothing, try Poshmark, The RealReal, Thred Up, Tradesy as well as Ebay. 
Most of these online sites are focused on women's clothing, but most also include men's & kid's clothes. If you want to focus on selling kids clothes try Kidizen. 
By selling your gently used clothing you can easily make $300 fast.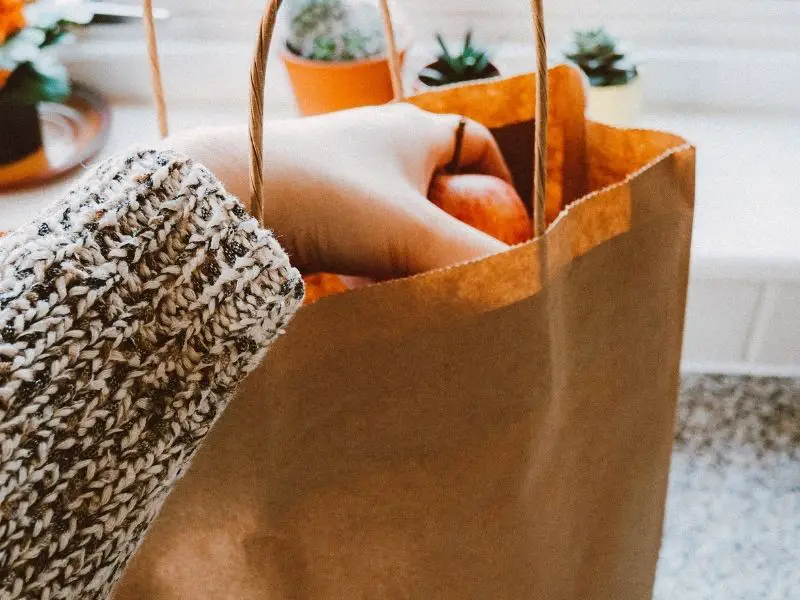 Deliver for Instacart
Instacart is a grocery delivery service and is always looking for good people.  
With Instacart, you are an independent contractor, so you decide when to work. Similar to Uber Eats, once you sign up with Instacart and are approved, you download the app and see the available jobs near you. 
You are free to pick and choose the jobs you want. Once you select a job, you are responsible for the shopping and delivery of the order. 
You will need to have a smartphone in order to use the app and a car to make deliveries.  
According to Instacart, you'll make at least $10 for each order, so you should be able to make$100, $200 or even $300 fast.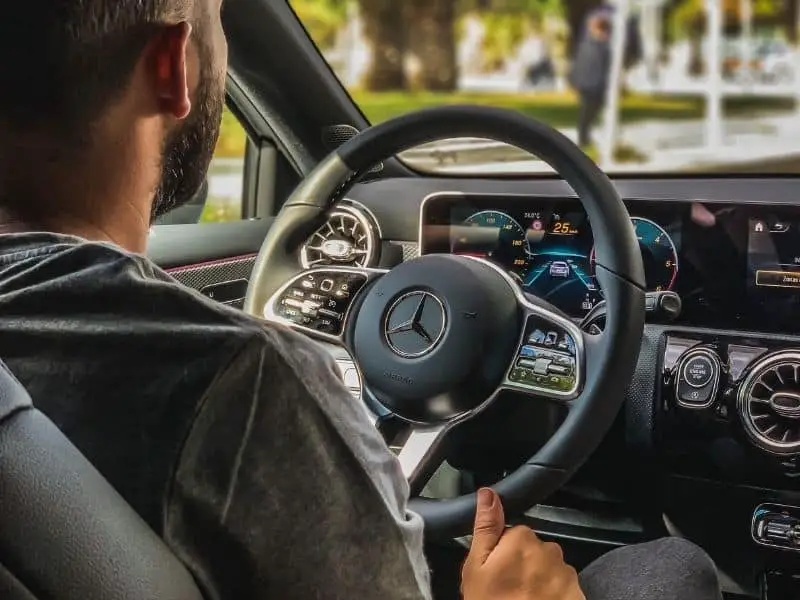 Become an Uber Driver
You probably know someone who is or has been an Uber driver. That's because it's one of the easiest and best ways to make cash fast.
Working for Uber offers you extreme flexibility because you choose when and where you want to work. Similar to other app related gigs, you sign up online and once you're approved you choose your driving gigs.  
Dog Sit on Rover
Are you a dog lover? Does your dog need someone to play with? If so, Rover may be a good fit for you! 
People looking for dog sitters use Rover to connect with available dog sitters. As a Rover dog sitter, you can choose to sign up for dog walking, daytime dog sitting; or be an overnight dog sitter. 
Rover is a really fun way to make extra money quickly.  
When I was a Rover dog sitter, I would usually dog sit anywhere from a couple of days to a couple of weeks.
I found that most people were looking for a reliable, dog loving person with a clean house to watch their dog while they went out of town.
A lot of people prefer to leave their dog with a private person versus a kennel because a private person gives the dog more love and attention.
People are definitely willing to pay for this service. I easily made $40 per day as a dog sitter. If you take Rover bookings only on weekends, you'd make $300 pretty fast-in about a month.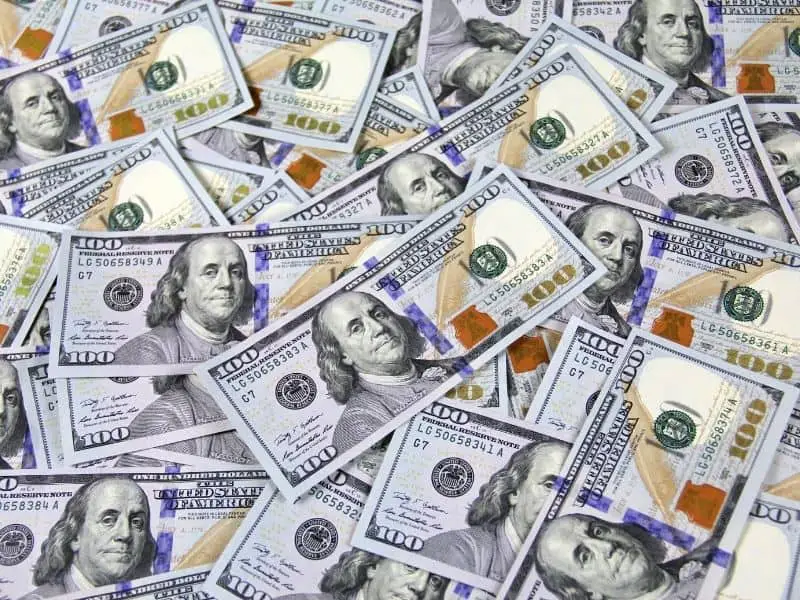 Earn a Cash Back Bonus with a New Credit Card
I love this technique of making a quick few hundred dollars.
There are a ton of credit card companies that offer cash back bonuses with their cards. 
Chase is one of the premier credit card companies and offers arguably the best deals.  
Here's how it works. If you apply for and are approved for a credit card, you have a certain amount of time to spend a certain amount on their card. 
If you reach the spend threshold within the timeframe, you get the bonus. 
For instance, a current offer with the Cash Freedom card if you spend $500 within the first 3 months of open date, you receive a $200 statement credit. I have done this multiple times with different Chase cards and it's awesome!
Or, you can have the $200 deposited into your checking or savings account. Plus, if you refer a friend and they're approved for the card, you get $100. Talk about a fast way to make $300!  
Earn a Cash Back Bonus with A New Checking or Savings Account
Similar to their credit card bonus offers, Chase also offers the opportunity to earn $200 if you open a new qualifying checking account. (I've done this too)
Earn Cashback with Purchases
Did you know that you can earn cash every time you make a purchase? It's true!
By using Rakuten, you can make money every time you spend money. Retail stores partner with Rakuten to market their products and services. The retailers pay Rakuten every time a purchase is made through their link.  
Rakuten turns around and gives some of that commission back to you, the consumer. Using Rakuten is a total no brainer way for you to make money fast.  
Depending on how much you shop through the retailers you can make quite a bit of fast cash.
Buy and Sell on Ebay
Ebay has been around for a while now and I think it's safe to say that it's here to stay.  
As a buyer, you can find just about anything on Ebay. That's good news for sellers because that means you can sell just about anything on Ebay. 
Plus, Ebay makes it super simple to get started. All you have to do is set up your account, take pictures of your items and list them. 
Because there is next to no overhead, you'll be making a profit before you know it. This is almost a full proof way to make $100, $200 or even $300 fast.
One key tip to selling on Ebay is to make sure you're pricing your items correctly. If you price too high, they won't sell and you'll never make any money.  
Take a look at your completion and see how they're pricing similar items. Use this as your guide. 
After you get a little experience, you may want to think about carving out a niche on Ebay and only sell items within that niche to make even more money. 
Many types of niche items do quite well on Ebay. There's a market for all kinds of collectibles like pottery, tennis shoes, sports cards, books and just about everything else.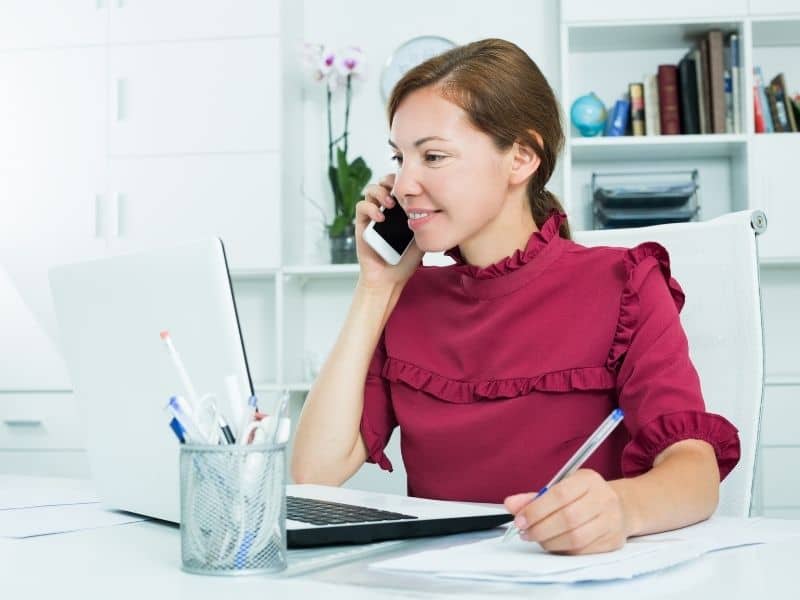 Do VA Work for Bloggers like Pinterest Management and SEO assistance
The online market is a gold mine for freelancers who want to set their own pay rate and make money quickly. 
So many online businesses need help with the backend stuff of writing and promotion. That's where you come in.
If you know a little something about online marketing or writing you can find a gig that will pay you for your expertise. 
As a freelance VA (virtual assistant) you can easily make $20 per hour and up. Just by working part time you can make $300 in a week.
If you'd like to take a deep-dive into becoming a virtual assistant, then I recommend checking out the course Become a Virtual Assistant by Megan Walker
Sell Your Products On Etsy
If you're crafty at all you can set up an Shop Etsy.com" target="_blank" rel="noreferrer noopener nofollow">Etsy is also a great outlet for any type of "printable" that you design. Think of things like website logos, budget calculators, meal planners and more.
The extra nice thing about printables is there's no shipping involved. All you do is create your product, make it a downloadable file and you're done.  
Become a Proofreader
Another in demand service is that of proofreading. Like these 10 Legitimate Freelance Proofreading Jobs.
A lot of people need someone to review their spelling and punctuation. If you've always been good at English, this might be the perfect way for you to earn extra money quickly. 
Proofreaders easily make $20 per hour and up. You can also take classes to learn how to become a better proofreader, or turn it into a career like Caitlin Pyle!
Proofread Anywhere is one of the most respected online proofreading courses. The creator of the course, Caitlin Pyle, is a veteran proofreader whose primary income source for 3 years was proofreading.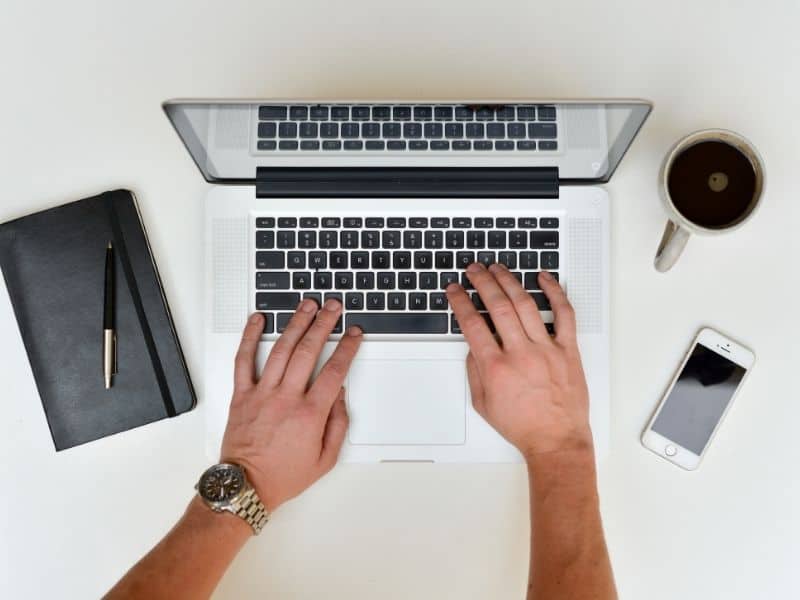 Freelance Writing
Freelance writing is a great gig if you enjoy writing. 
There's a huge market, especially for online publications, for people that can write. 
Look to your favorite website and online blogger job boards to find writing gigs. People posting writing gigs need writers immediately so this is an excellent way to make money fast! 
Pay is often times per word rather than by the hour, but if you're efficient you can easily make $25 per hour and up. An excellent way to make money fast!
If you want a little boost in knowledge, I recommend the course 30 Days or Less to Freelance Writing Success. The creator of the course, Gina Horkey, was able to completely replace her full-time corporate income in less than a year!
Learn more about how to make money writing online.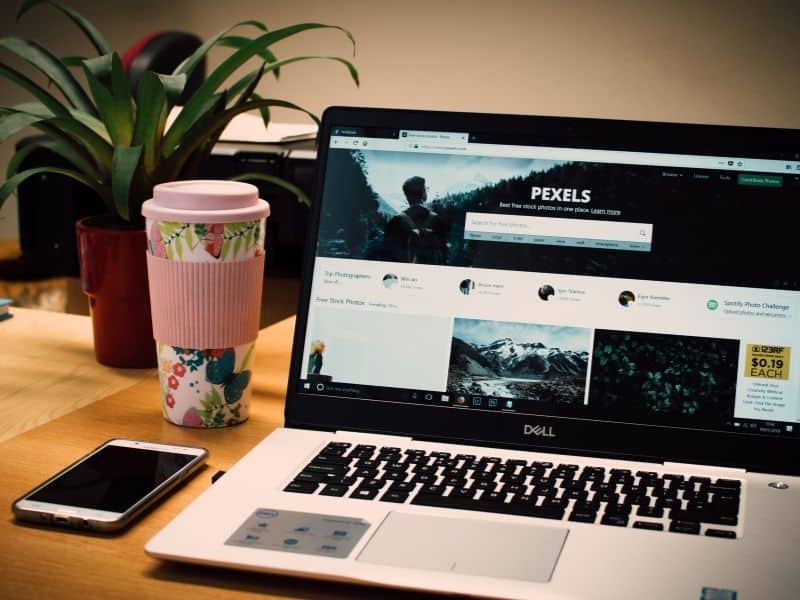 Build a Website
If you're tech savvy you can make good money helping online business owners.  
Most business owners have an online presence and most business owners are not experts at managing their websites. 
If you know WordPress or have any coding experience, you can make money helping people solve their website issues.  
Whether you build a website from scratch or fix issues on an existing website, you shouldn't have any issues making a few hundred dollars or more within a month.  
I know people that make $300 or more very fast – within a weekend!
Do Online Surveys
Companies like Vindale research and Survey Junkie will pay you to do online surveys. While each survey will only pay a few dollars, if you do enough of them, it all adds up.
This is a pretty brainless way to make extra money fast.
Sell Photos On Shutterstock, Foap, and Others
If you're handy with a camera you can make money selling your photos to one of the online stock photo companies like Shutterstock.
Once you're approved, you upload your photos and earn income every time one of your photos sells. 
Learn the best apps to sell photos!
This is a nice passive income stream that allows you to make extra money with very little ongoing work after the initial setup.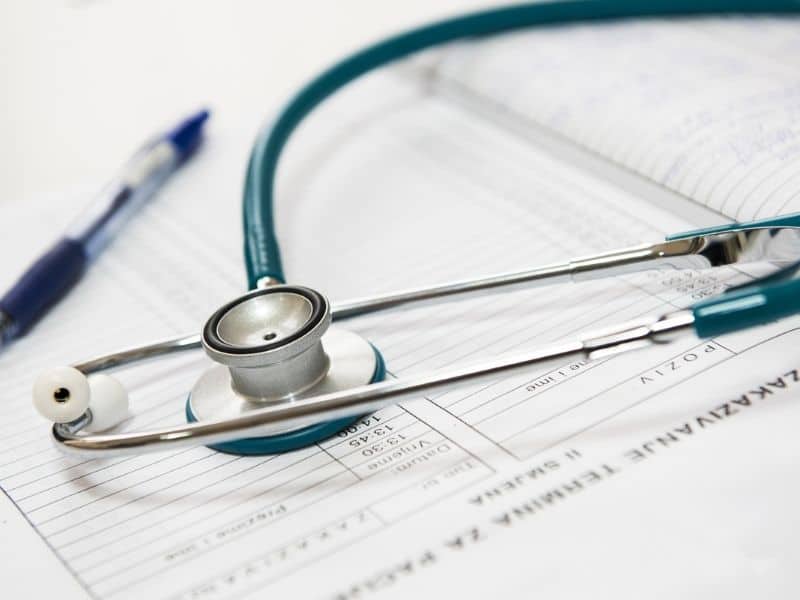 Participate in Medical Studies
If you live near a medical university or study center, you can make money participating in medical testing.  
Depending on the study, it can be a lucrative way to make a few hundred or a few thousand dollars.
Give Plasma
Want to help your fellow man and make money while you're at it? Giving blood is always an option. 
As long as you're healthy and don't mind needles you can make decent money donating plasma. And, giving plasma only takes about an hour and a half. So, it's a fast way to make extra cash!
Mow Lawns
The lawn mowing business is quite lucrative. You can make $40 and up for mowing a lawn. 
If you have a few customers at $40-$50 each, that's a nice chunk of extra money. You should be able to make at least $300 relatively fast and easy by mowing a few lawns.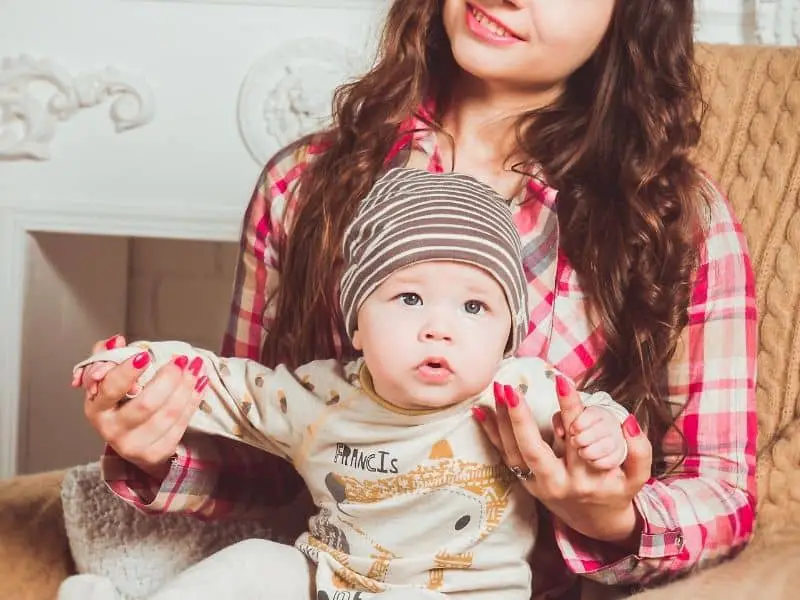 Babysit
Moms and dads everywhere need babysitters.  
Whether they want to get out for a few hours a couple of times per month or need someone to watch their kids weekly, people who are good with children are always in demand. 
For an adult who has some experience with kids, plan on making $15-$20 per hour.
Have a Garage Sale
Everyone loves a good garage sale! Pick a weekend to set up shop in your driveway, post some signs around town and display all your gently used stuff.  
You'll be surprised at how many people come by to check out your wares. Keep in mind that most garage sale regulars LOVE to barter so plan to have some fun haggling over prices.  
You're bound to make at least a few hundred dollars in a quick weekend!
To Summarize
There are so many ways you can make 300 dollars fast. Whether it be to pay for an emergency, save for a vacation, or just get one step closer to leaving that 9-5, making extra money is always an option!
You may also want to try some of these money making ideas: