This post contains affiliate links, which means I may receive a small commission, at no cost to you, if you make a purchase through a link.
A 52 week money challenge is one of the best things you can do if you want to increase your savings. Not only will you reach your savings goal (if you stick to the plan, of course) but you'll also get into the habit of saving.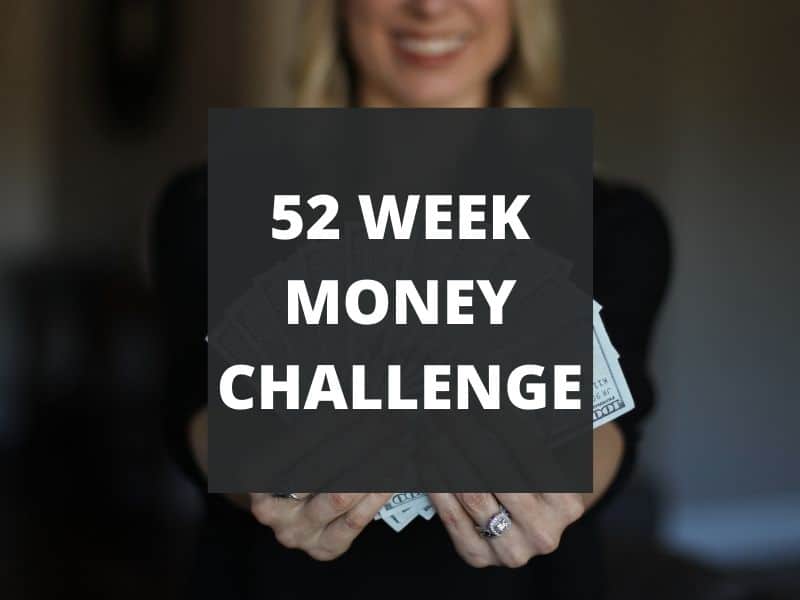 The amount of time it takes to form a habit can vary wildly from person to person. This study published in the European Journal of Psychology found that on average, it takes 66 days before a new behavior (e.g. saving money) becomes automatic, but it can take some people up to 254 days.
In other words, a 52 week money saving challenge is more than enough time to ensure that a savings habit is truly formed.
52 Week Money Challenge Printable
The first thing you need to do is download the free savings printable to follow along with the challenge. Simply click right here or on the image below and you'll get a free PDF you can download print out.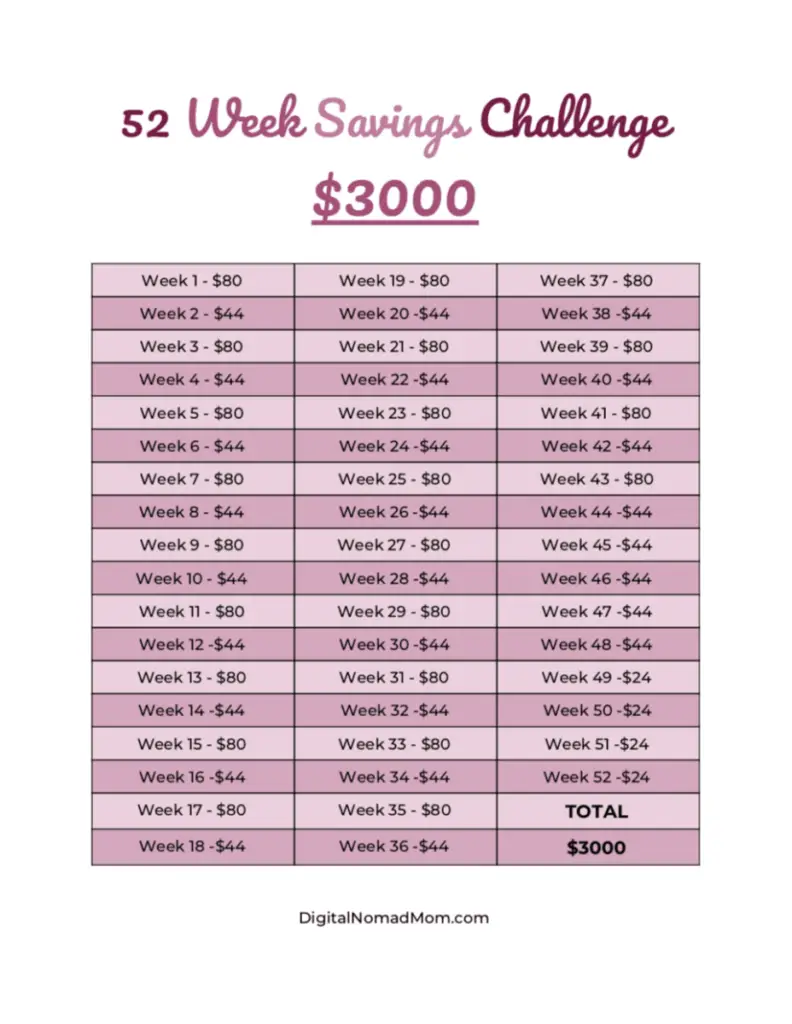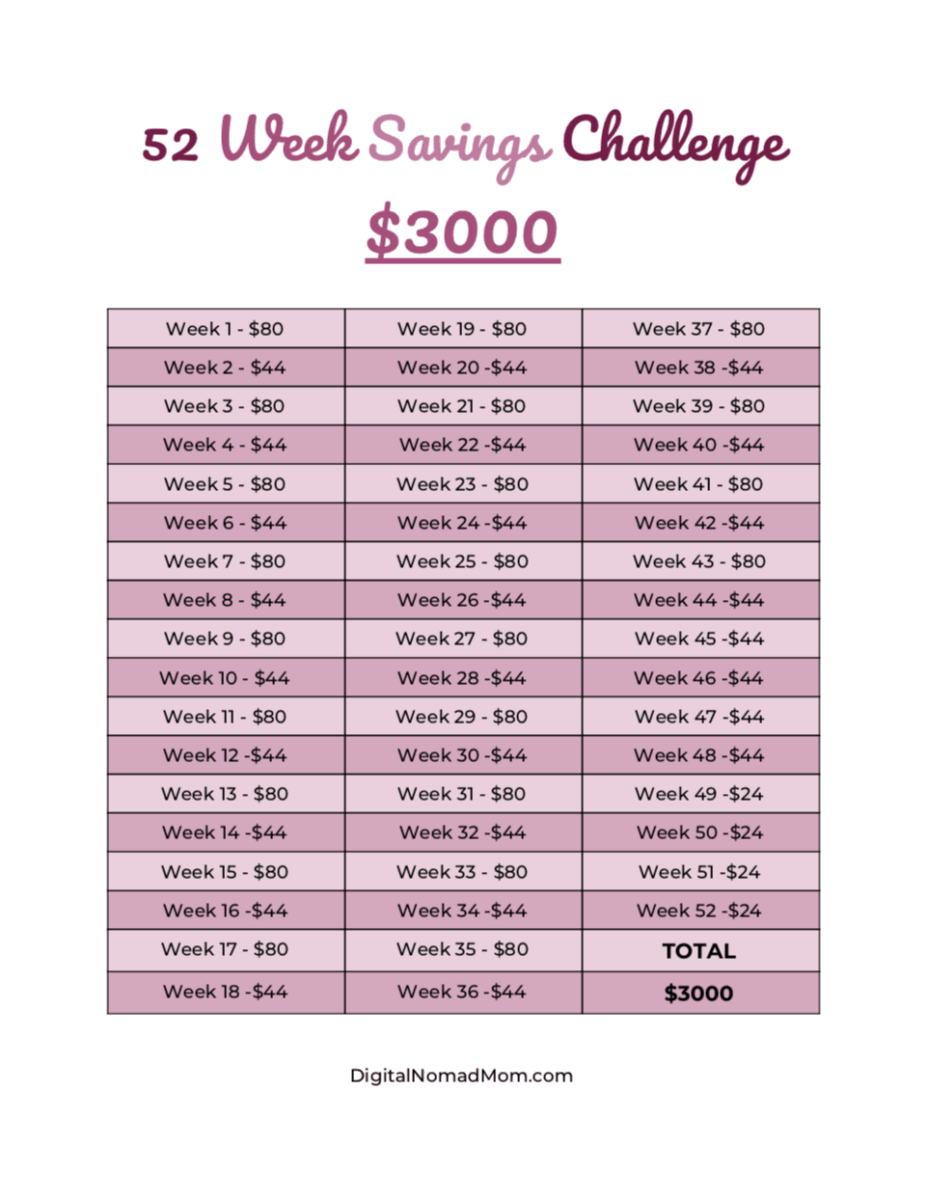 In this savings challenge, you'll be saving $80 one week and $44 the next for 44 weeks. Once you reach week 44, you'll save $44 week until week 49, at which point it drops down to $24 a week.
The reason I've created the savings challenge like this is to give you a little breathing room around the holiday season. For most people, the holiday season is the most expensive time of year and as such, you may not have as much cash to put aside, so $24/week should be a welcome relief.
Psst – if that sound familiar to you, you will like this post about 11 creative ways to make extra cash for Christmas. 
Of course, you can start this challenge any time of year – it doesn't have to be just January! In fact, if you've discovered this challenge at ANY time of year, I recommend you start now.
As the Chinese proverb says:
"The best time to plant a tree was 20 years ago. The second best time is now."
That goes for saving money, too. With that being said, let's start this money saving challenge and reach that $3000 savings goal.
You may also want to try these 10 ways to make $200 fast!
How to Get Started Saving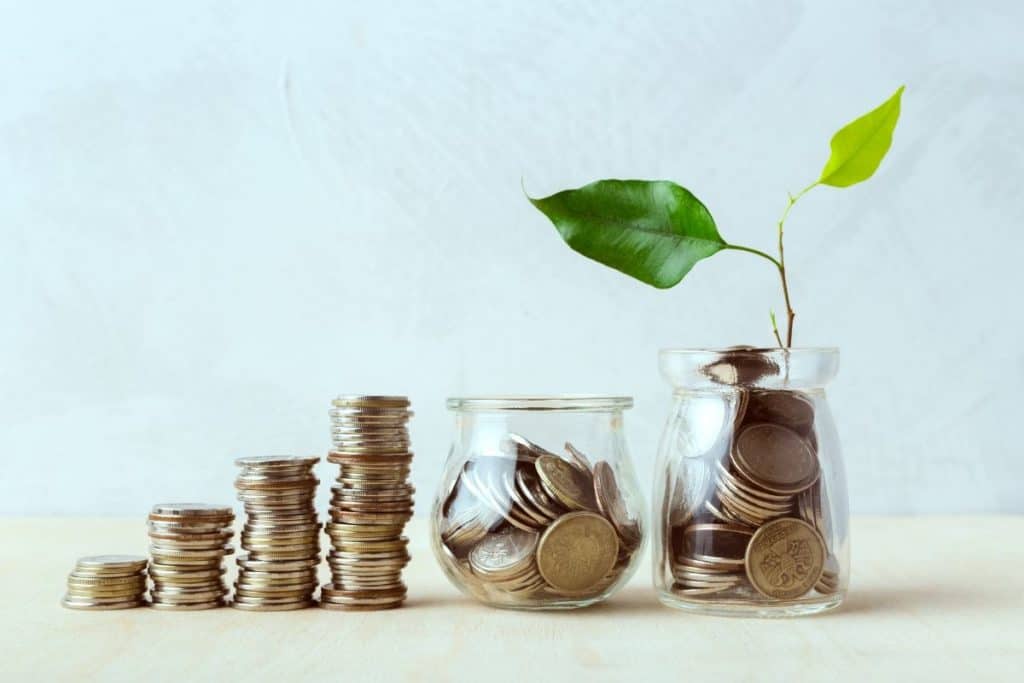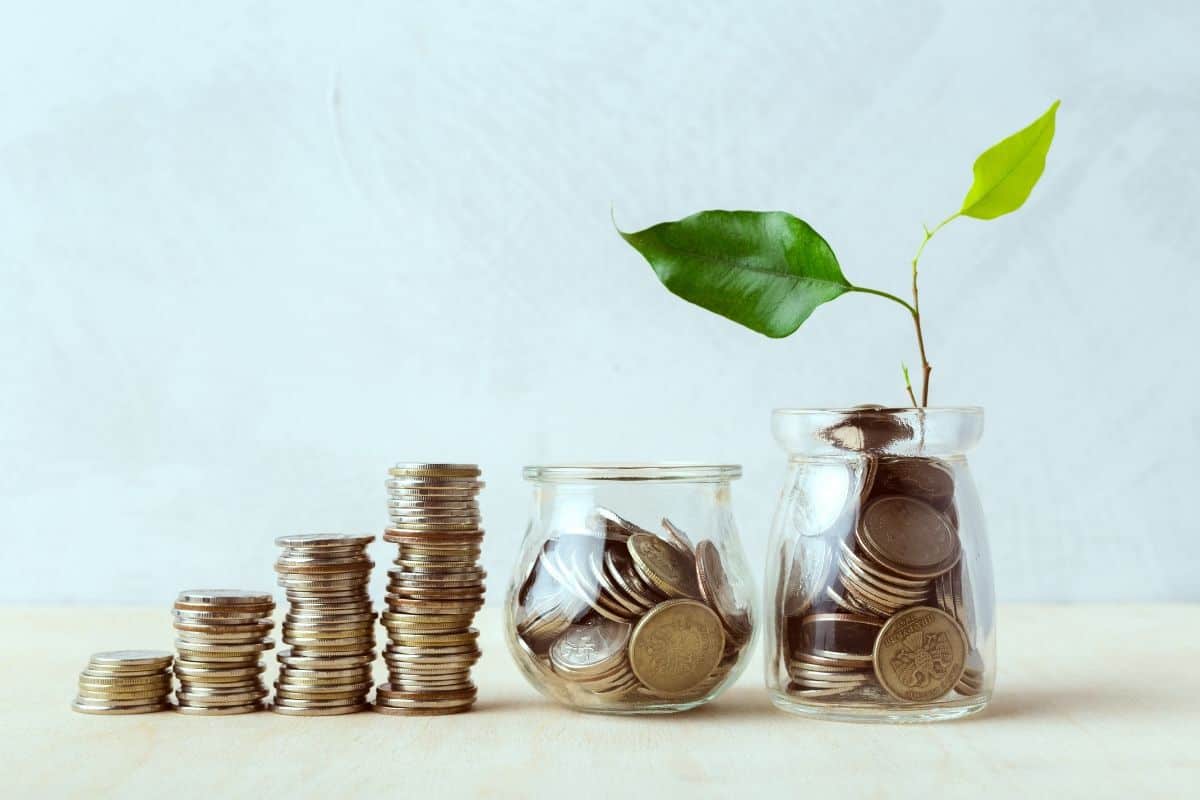 First off, I highly recommend you setting up an automatic deduction from your paycheck to go straight to a savings account. This makes it soooo easy to save because you never have to see the money.
Next you can learn how to make 300 dollars fast – this can jumpstart your savings and make you feel like you're accomplishing something!.
That said, to make sure you can still meet your obligations, try some of the below to make sure you have the money to save.
Cutting Expenses
The first thing you'll need to do is a take a look at your expenses and determine ways you can cut these down. This might sound daunting but you may be surprised at how much unnecessary money you're spending, once you take a good, hard look.
Some examples of expenses you could cut or reduce and save a lot of money include:
Cancel Cable Subscription
Cutting your cable subscription alone could save you over $1000/year, so it's definitely worth considering. This is something I did and haven't looked back. Here's how I did it:
This is how I cut my cable subscription but still got access to my favorite shows:
Bought Roku (I actually have 3, but you only need one to start!!)
Downloaded the Philo app
Reduce Eating Out
Eating out is fun and often more convenient than cooking, but it can also put a huge dent in your budget. You may not want to stop eating out entirely, but even reducing the amount will go a long way towards reaching your savings goal.
Entertainment
Entertainment is important but it's something that can easily be reduced to save money. Of course, this is going to vary based on your chosen forms of entertainment, but two examples include:
Using the library instead of purchasing books
Netflix instead of going to the cinema
Gym Membership
I'm a big health nut and would never suggest cancelling your gym membership if you use it regularly. However, the truth is that a 53% of people who pay for a monthly gym membership never actually use it.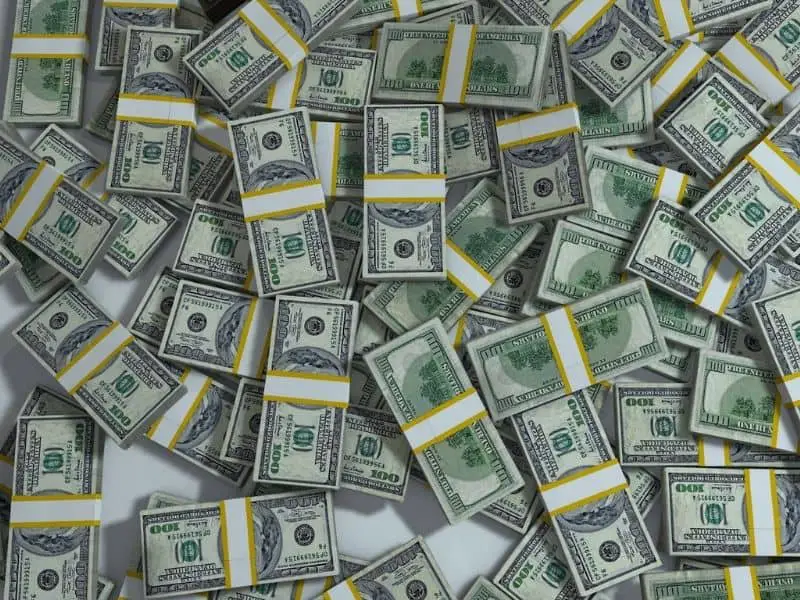 Increasing Income
A penny saved is a penny earned, but a penny earned is, well… another penny earned?
The point is, if you want to reach (and even exceed) that $3000 savings goal, then increasing your income is one of the best ways to get there.
You may be thinking "easier said than done" but the fact is, there are lots of legitimate ways to make extra money from the comfort of your home. That's right, you don't even have to leave your home to make extra money.
Making extra money online is one of my areas of expertise and teaching others how to do the same is one of the main goals of Leave Your 9-5. Here are some links to articles I've written on the topic of making money online:
Make sure you click through and read those 5 articles – you'll get tons of ideas for making extra money.
In the meantime, here are some quick things you can do right now:
There are countless survey sites and many of the are scammy and not worth your time (I've tried the majority of them.) Vindale Research is one of the few that are worth signing up for.
One of the best features of Vindale Research are the daily studies. You can take a maximum of 10 daily studies per day, and each study pays between $0.75 – $1.25. Doing the daily studies alone you have the potential to make up to $25/day.
Of course, like all survey sites you may or may not qualify for surveys based on their target demographic, but it's worth joining and seeing what you might qualify for. Click here to join Vindale Research.
Get cash back on your groceries with this free app. Simply do your grocery shopping, log into the app and find matching cash back offers to redeem, snap a copy of your receipt and you're done. Within 24 hours, you'll receive your cash back reward. Once you've reached $20 you can exchange it for cash or a gift card. Join Ibotta and get a bonus $10.
(You can also earn $5 for every friend you refer to the app so sign up, get your referral link and start sharing! I've made over $2000 with Ibotta from claiming cash back rewards and sharing my referral link. Click here to get started.)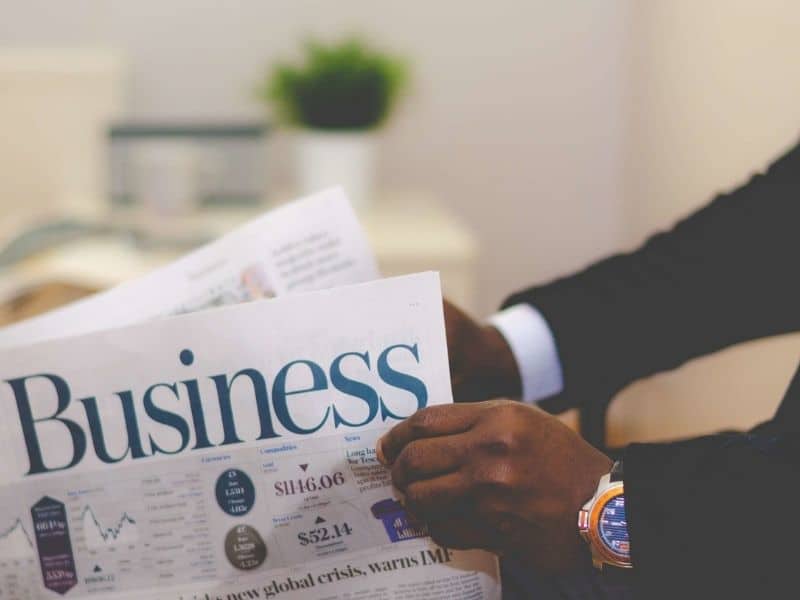 Start a Business
If you're looking for a little more than just making some extra cash on this ide, you may want to consider starting a business to make some extra money.
This is definitely not the quick or easy way to make money (but really, is making money ever quick and easy??). But if you have an entrepreneurial sprit, this may be the way to go!
Here are some of my favorite options for getting started:
These are just some ideas of how to get started with your own business.
You can also eliminate your shoe expense by learning how to get free shoes!
Start the 52 Week Money Challenge!
Let's recap exactly what you need to do to succeed:
Scroll back up and print off your free printable tracking chart
Go through your expenses and find things you can cut or cut back on
Read the recommended articles and find some ways to make extra money
Start putting away the allocated amount of money each week
Don't lose sight of your ultimate goal – maybe a vacation, new car or room makeover!
Celebrate your success!
If you're super motivated, you may also want to check out how to save $10,000 in a year!
Have you done the 52 week money challenge? Were you able to save $3,000 or more? Comment below on your experience!